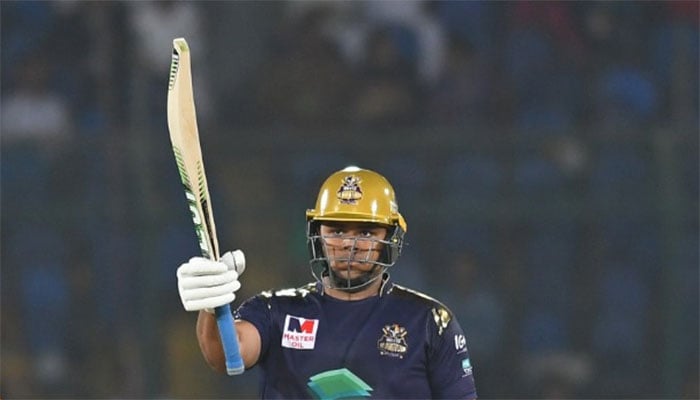 Azam Khan, the son of Pakistan's former wicket-keeper and captain Moin Khan, was ridiculed last year for being overweight. There were memes all around him, questioning his credibility to be in Quetta Gladiators' PSL squad for PSL 4.
On Thursday, he walked on to the field with Quetta three-down for 26. He had to face similar taunts as he approached the crease. But soon the perception of his critics and the crowd at the stadium, there to watch the Gladiators take on United, changed for good.
One innings changed what everyone thought of him. Those who were booing him, suddenly started chanting and cheering for him.
For Azam, this all was a very special experience.
"It's certainly a good feeling to score runs. And scoring runs is the only way a player can answer his critics," Azam told media after his 59 runs off 33 balls at the National Stadium.
"I was given confidence by the team management at the nets that I was going to play this match so I was mentally prepared," Azam said.
The 21-year-old batsman said that he felt bad when he was ridiculed earlier but couldn't do much and realised that his only answer to the critics could be through his performances.
"I can't stop people from saying things about me as that's beyond my control but what is in my control is my performance and, once you start performing your critics become your supporters," said the young batsman.
"I have improved a lot since my last appearance in PSL. I have lost weight and worked to improve my skills," he said.
He said that he didn't let negativity pull him down and that's why he was able to do what he did on Thursday night.
Azam was once dubbed Pakistan's Chris Gayle by Quetta Gladiators team owner Nadeem Omar. However, Azam wants to remain grounded.
"I am not even 10 per cent of Chris Gayle," he said.
"I try to idolise Babar Azam as he's the best in this era and I want to be as good as he is," the youngster said.
When asked to differentiate between Moin the father and Moin the coach, Azam said that when he's on field for cricket, the father-son-relationship disappears.
"[During the match] he is my coach just as he's for any other player of the team," Azam explained.
PSL 2020: Quetta Gladiators' Azam Khan turns jeers into cheers