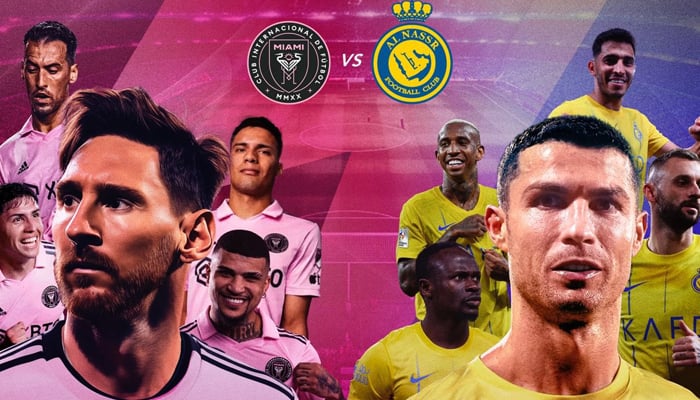 Lionel Messi and Inter Miami are set to face Cristiano Ronaldo and Al Nassr in a high-profile friendly match in Saudi Arabia this February.
As per details, the event is dubbed 'The Last Dance', marking what could be the last showdown between these two legendary players. No specific date has been announced aside from the game being scheduled for February.
Messi, aged 36, made his mark primarily at Barcelona, while Ronaldo, aged 38, reached great heights at fierce rivals Real Madrid after transferring from Manchester United in 2009.
Their most recent encounter was in January when Paris Saint-Germain triumphed 5-4 against a Riyadh All-Stars XI squad in Saudi Arabia.
Many believed that would mark the final time Messi and Ronaldo shared a pitch as they near the end of their careers on different continents.
Ideally, their farewell match would have been in the World Cup or Champions League, fitting stages for their stature in the sport. However, the Riyadh Season Cup offers a definitive conclusion to their long-standing rivalry on the field.
For over a decade, Messi and Ronaldo have dominated world football. Ronaldo clinched his first of five Ballon d'Or awards in 2008, with both players winning 12 of the next 14 years.
Ronaldo's move to Real Madrid in 2009 put them on opposing sides for one of Europe's major derbies for nine seasons.
Fans endlessly debated who was superior, but Messi's record eight Ballon d'Ors and Argentina's 2022 World Cup victory have likely settled that argument.
The upcoming friendly in February will undoubtedly reignite discussions comparing Messi and Ronaldo's legacies.