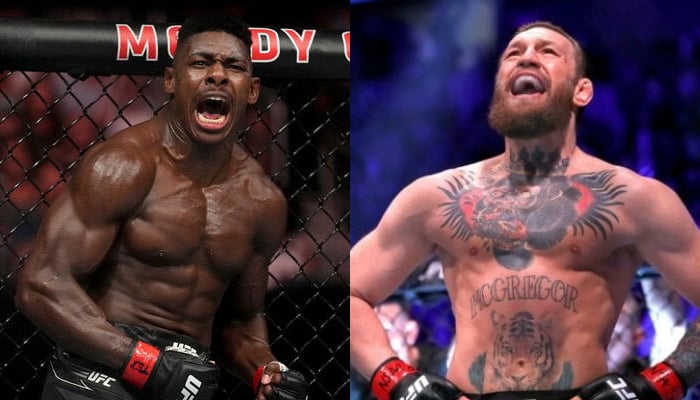 UFC fighter Joaquin Buckley explained the reason why, according to him, Conor McGregor will not be marking his return to UFC any time soon.
The last time McGregor was in the octagon was during his fight against Dustin Poirier after which he spent almost two years out of action following a nasty leg break at UFC 264 in July 2021.
Fans have been waiting for over two years now and it seems like McGregor's return would finally become a reality but in 2024. However, Buckley believed that the Notorious wouldn't be returning to the bloody-octagon as he knew he would get beaten badly.
"Man I'm already knowing the reason @TheNotoriousMMA not coming back. He know he'd get bodied and he'll no longer be the face of combat sports [facepalm]," Buckley posted on X, formerly Twitter.
"Money Mac get yo money man but stop pretending like you coming back getting these folks hopes up [laughing faces]."
While Buckley has his opinion but after almost 2.5 years, McGregor is now fully fit and is ready to compete again. It was believed that he would fight Michael Chandler at UFC 296 in December but that was ruled out because the former lightweight champion hadn't completed the six months of mandatory drug testing according to a UFC policy.
The MMA icon has lost three of his last four fights. Including back-to-back defeats against Poirier at UFC 257 and 264 and a famous submission defeat against the undefeated UFC star Khabib Nurmagomedov at UFC 229 on October 7, 2018.
At his peak, McGregor won two UFC titles and impressively knocked out eight opponents. The quickest knockout win of his career came against Jose Aldo in December 2015 when he knocked Aldo out in just 13 seconds.
In his UFC career, the 34-year-old was undefeated in his first seven fights from 2013 to 2015. His first loss came against Nate Diaz at UFC 196 in March 2016.