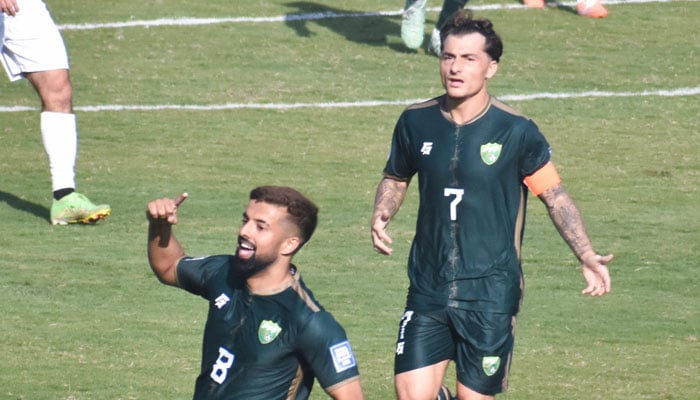 Pakistan were defeated 6-1 by Tajikistan in their second match in the second round of the FIFA World Cup 2026 Qualifiers at the Jinnah Stadium, Islamabad, on Tuesday and there were a lot of takeaways from the match.
Too many problems were seen in Pakistan's display, starting from players' fitness to the team structure, as nothing went their way in a thumping defeat that has weakened their chances of progressing to the next round.
Inability to keep the ball
Pakistani players couldn't play with the required patience as they kept on losing the ball at intervals and were unable to keep the ball for longer instances. They only had 29% possession with just four attempts at goal, two of which went to the target. The players had trouble holding on to the ball as every single touch was rushed towards the goal and they looked in a hurry to play counter-attacking football, which wasn't possible as they played mainly with long balls and were unable to threaten Tajikistan's composed defensive line.
Team structure
Out of six goals Pakistan conceded, four of them came from considerable distances and that didn't just happen out of the blue. Tajikistan players smartly exploited all the empty spaces in Pakistan's half and attacked them with proper positioning and off-the-ball movements of the players. Tajikistan scored three goals from outside the box, and that happened due to the midfield's inability to press at the right time and cover up the spaces. The team looked out of shape, unable to keep up with the intensity of the match.
Missing players and fitness issues
Pakistan were missing three players from the starting XI and that looked visible as the Green Shirts struggled the most at those positions. Skipper Easah Suliman has been ruled out due to a meniscus injury and his return date is yet to be determined. Suliman captained the Pakistani side that created history by beating Cambodia 1-0 and qualifying for the FIFA World Cup 2023 Qualifiers second round for the first time in history, so his absence was clearly felt.
On the other hand, Rao Umar Hayat, Pakistan's starting right-back, was suspended for the game and he was replaced by Mohib Ullah who was unable to deal with Tajikistan's fierce attacks as most of the visitors' attacks came from his flank.
Another miss from Pakistan's starting XI was Shayak Dost, a trusted and complete right-winger who tracks back and keeps himself engaged in defensive work continuously.
Pakistan have now conceded 10 goals in two games and their next match is against Jordan at home on March 21, 2024. It will be interesting to see what head coach Stephen Constantine does in those months to improve the team's structure.
Abdul Wasay is a sports journalist at Geo Super.