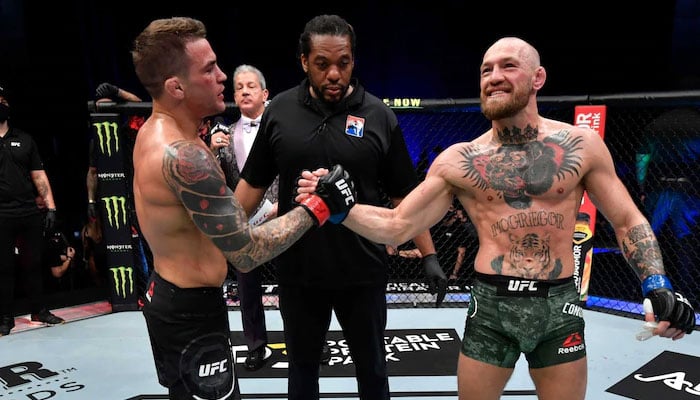 UFC star Dustin Poirier is ready to compete with Conor McGregor in his fourth fight, which can take place at UFC 300, likely to be held in April 2024.
Poirier, who recorded back-to-back wins against McGregor, was eager to face his old rival one more time and wasn't shy to admit that he would try to shut him up for good this time.
"I probably would try to shut him up once and for all," he told Megan Olivi at UFC Vegas 82.
"Even if I slap his a** around again he's still going to be chatting, so, we'll see.
"Is him and Chandler official? I don't know what's going on."
If Poirier couldn't take on McGregor in his next fight, then he is not sure who his next opponent would be.
"If [Charles] Oliveira's getting the fight against with [Islam] Makhachev, [Justin] Gaethje's going to be next," Poirier said.
"He's going to sit out and wait for that because he's guaranteed himself a shot, so how long is that going to take, you know?
"So, I've got to fight somebody, it just depends on who the biggest fight I can make is."
However, regardless of who he ends up facing, Poirier wants to make a comeback after being on the sidelines since July 2023 following his head-kick knockout loss against Gaethje.
"I've been thinking about [UFC] 300. I think that's a big event, you know?" he added.
"Like I said in another interview, I missed [UFC] 200, I'm not going to be around for [UFC] 400, so that would be like, pretty cool for me."
It must be noted that the last time McGregor was in the octagon was during his fight against Poirier after which he spent almost two years out of action following a nasty leg break at UFC 264 in July 2021.