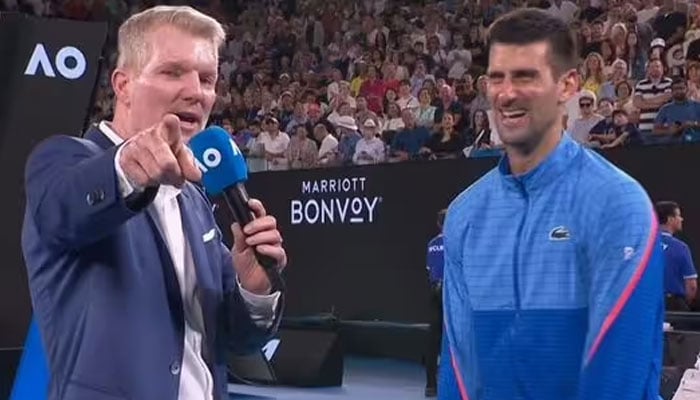 Former tennis icon and world number one Jim Courier lauded Novak Djokovic after the Serbian clinched the ATP Finals by beating Jannik Sinner in straight sets and wrapped up the year with seven titles.

Djokovic, 36, has not shown a single sign of decline and dominated in the entire 2023 as he featured in all four Grand Slam finals and won three of them — Australian Open, French Open, US Open — while he was handed a defeat by Carlos Alcaraz at Wimbledon.
The 2024 season is about to begin in a month and the tennis fraternity is predicting who will dominate the year with Djokovic, Alarcaz and Daniil Medvedev being the front runners.
Courier, who won four Grand Slams, praised the 36-year-old and defined his dominance at the Australian Open, a major he has won 10 times, saying that in Australia, he is as dominant as Rafael Nadal in French Open, a title he won for a record 14-times.
"Betting against Novak in Australia has almost become like betting against Rafa at Roland Garros. Rafa fourteen times on the dirt, in Australia, it's ten times for Novak and he didn't show us anything today or this week that's going to dissuade I think any of us from thinking that," said Courier.
Meanwhile, Nick Kyrgios, sitting next to him, concurred with the former world number one and admitted that it was a boring prediction because Novak is so comfortable in Australia.
"Yeah, boring prediction from me. I think Novak, as well. He's so comfortable in Australia and after last year, he was basically untouchable as well. No signs of slowing down, so I'm going with Novak as well," said Kyrgios.
It must be noted that Djokovic, after his ATP Finals win, confirmed that he has no intention to stop and is now aiming for a "Golden Slam" — winning all major titles and a gold medal in the Olympics — for the next year.
Steffi Graf is the only player to have achieved the elusive feat of winning a 'Golden Slam' after securing the Australian, French and U.S. Opens, Wimbledon and a gold medal at the Seoul Olympics in 1988.
"Well, you can win four slams and an Olympic gold," Djokovic said. "I have always the highest ambitions and goals. That's not going to be different for the next year.
"The drive that I have is still there. My body has been serving me well, listening to me well. I have a great team of people around me.
"Motivation, especially for the biggest tournaments in sport, is still present. It still inspires me to keep going."