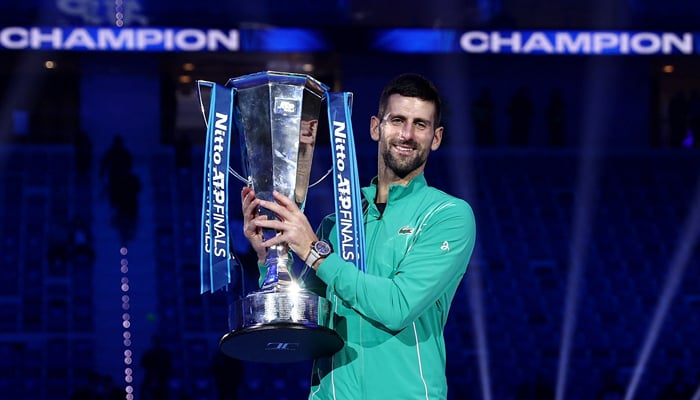 Novak Djokovic is targeting a 'Golden Slam' in 2024 after wrapping up an impressive 2023 with an ATP Finals trophy and three major titles.
Djokovic clinched his seventh ATP Finals on Sunday with a straight set victory against Jannik Sinner. Wimbledon was the only grand slam Djokovic couldn't win this year after losing to Carlos Alcaraz in the final.
The 36-year-old told reporters in Turin he is eager to win all the majors next year as well as the singles gold medal at the Paris Olympics — which is known as the Golden Slam.
Steffi Graf is the only player to have achieved the elusive feat of winning a 'Golden Slam' after securing the Australian, French and U.S. Opens, Wimbledon and a gold medal at the Seoul Olympics in 1988.
"Well, you can win four slams and an Olympic gold," Djokovic said. "I have always the highest ambitions and goals. That's not going to be different for the next year.
"The drive that I have is still there. My body has been serving me well, listening to me well. I have a great team of people around me.
"Motivation, especially for the biggest tournaments in sport, is still present. It still inspires me to keep going."
The 24-times Grand Slam winner, Djokovic, also said that he was "very, very proud" of his season.
"Four out of five tournaments ... I couldn't ask for more to be honest," he added.
"It's a great reward for what my team and I have been through this year, being one of the most successful years in my career that I've ever had."