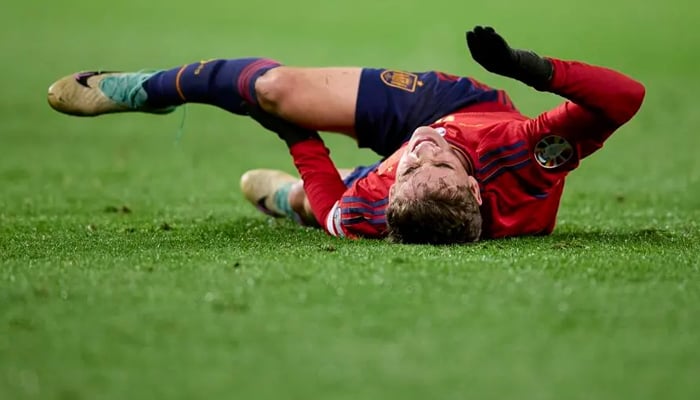 Spain announced on Sunday that FC Barcelona midfielder Gavi suffered a "significant injury" to his right knee and will undergo more tests.
Gavi hobbled off the field in the first half against Georgia and looked to be in severe pain.
While speaking to Spanish broadcaster RTVE, team doctor Óscar Luis Celada said that they are "very worried" about Gavi who looks set to spend a long time on the sidelines.
It is likely that Gavi has torn his Anterior Cruciate Ligament (ACL) which will likely rule him out for the rest of the season but more tests will now be needed before an official diagnosis. 
"It is a very difficult moment for Gavi, Barcelona, the national team and for me, it seems as if we have lost the game," Spain coach Luis de la Fuente told a news conference.
"This is the ugly part of football. I am very sorry. Let's wait for the tests to confirm the extent of the injury. This is the most bitter victory I have ever experienced in my life."
Spain's players were also concerned about the injury to their star player as Ferran Torres held up Gavi's shirt after notching up a goal in a clear gesture of support to his teammate.
"An important victory to end on a good note, but we leave with a bittersweet feeling because of Gavi's injury," said Torres.
"We don't know the extent of the injury, but knowing how much of a warrior Gavi is, we think it could be serious."
Spain defeated Georgia 3-1 in their final Euro 2024 qualifying Group A match. The winning side, who were already assured of top spot, finished with 21 points after seven wins in eight games. Their only defeat came against second-placed Scotland, who had also already qualified for the finals and ended with 17 points after a 3-3 draw with Norway.