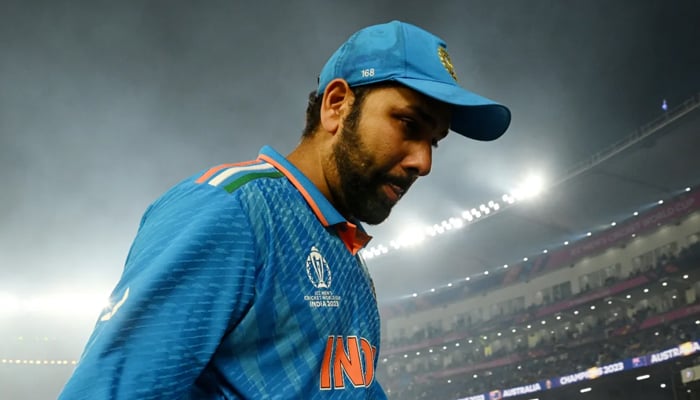 India's captain, Rohit Sharma, expressed immense pride in his team's remarkable journey to the World Cup 2023 final but conceded that they fell short on a crucial day against Australia in Ahmedabad.
Admitting they were "not good enough" to surpass the serial-winning Australian team, Sharma pointed out areas for improvement. He highlighted the need for an additional 20-30 runs during their batting innings and emphasised the significance of a stronger partnership between half-centurions KL Rahul and Virat Kohli, suggesting it could have made a substantial difference in the outcome.
"Honestly, the result hasn't gone our way," Rohit said at the post-match presentation, "And we know that we were not good enough today. But I'm really proud of the team, how we played from game one. It wasn't our day, we tried everything we could from our side but it wasn't supposed to be.
"Honestly, 20-30 [runs] more would've been good. We spoke around 25-30 overs when KL and Virat were batting. I thought when they were batting they were stitching a good partnership there and then we just needed to bat as long as possible. We were looking at 270-280 at that point, but then we kept losing wickets. We couldn't stitch a big partnership there, and that's exactly what Australia did to win the game. They stitched a big partnership after that three [early] wickets."
Even though India started briskly in the initial powerplay, largely owing to Rohit's efforts, they encountered a significant slowdown in the middle overs. From the 11th to the 40th over, they managed merely two fours and failed to hit a single six. Despite Rahul and Kohli attempting a recovery after the early setbacks, accumulating 67 runs off 108 balls, the momentum faltered. The dismissal of Kohli by Pat Cummins interrupted their rebuilding phase.
India stumbled, losing their final five wickets for a mere 37 runs, resulting in a total of 240. This marked India's second-lowest score while batting first in the World Cup, a surprising dip after impressive totals of 397, 410, 326, and 357 in their preceding four matches.
Australia faced a shaky start in the swinging conditions of the evening, succumbing early as David Warner, Mitchell Marsh, and Steven Smith departed within the initial seven overs, leaving them at 47 for 3. However, as the ball lost its initial swing, it played more favourably for batting. Travis Head and Marnus Labuschagne capitalised on this, forging a substantial partnership, predominantly led by Head, to steer clear of further setbacks.
Rohit said just one more quick wicket could have opened up the game.
"When you have 240 on the board, you want to take wickets as early as possible, and we did that," he said. "But then credit to Head and Marnus, they stitched a big partnership and put us completely out of the game. But again, we tried everything we could but I thought the wicket got slightly better to bat on under the lights.
"We knew under the lights it would be slightly better. I don't want to give that as an excuse, we didn't bat well enough to put enough runs on the board. And then up-front we got those three wickets and we thought another wicket there we can open up the game but again credit to those two guys in the middle for stitching that big partnership."