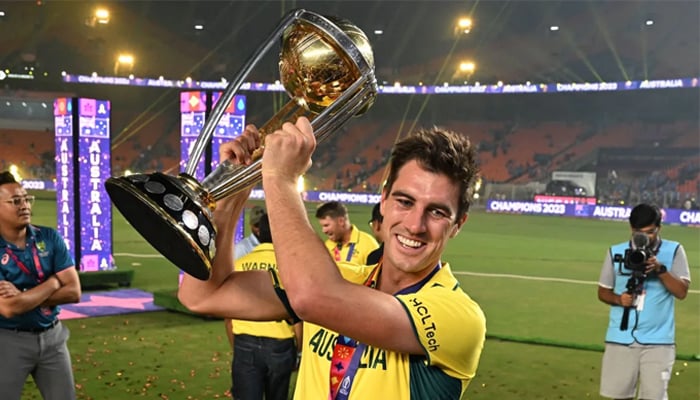 Australia were not the definite favourites going into the 2023 ODI World Cup. They kicked off their campaign with two significant losses, faced injury concerns, and dealt with several players out of form. Their victories during the league stages lacked conviction.
However, captain Pat Cummins expressed satisfaction that his team "reserved their finest performance for the end." They convincingly defeated hosts India, previously unbeaten in the tournament, by six wickets in the final, securing their sixth World Cup triumph in history.
"You've got to go and win a World Cup," he said at the post-match presentation. "You just can't wait for it to happen. And I think you got to be brave at times, you got to take the game on. And it was a real shift after those first two games. With our batting particularly you saw the openers going out aggressively and pretty much didn't waver from that for the rest of the tournament.
"Think we saved our best for last. And a couple of big-match players stood up and, yeah, we're pretty chuffed."
In the final, Australia faced a dire situation at 47 for 3 while chasing 241. Mohammed Shami dismissed David Warner for 7 in the second over, and Jasprit Bumrah claimed Mitchell Marsh's wicket, caught behind for 15. Shortly thereafter, Bumrah made a pivotal breakthrough in the seventh over, dismissing Steven Smith for 4, trapping him in front of the wicket.
Travis Head and Marnus Labuschagne's match-winning partnership of 192 denied India any opportunity to get back into the game from that point onwards.
"I was one of those blokes with the hearts fluttering upstairs, I was pacing [after 47 for 3]," Cummins said. "Marnus walked in and out and a cool head straightaway. And Travis just does what he does - really brave again, he takes the game on, and puts the pressure back on the bowlers. And to do it on the biggest stage shows a lot of character."
Cummins, who led Australia to the World Test championships title earlier in the year, also praised the passion in India for the game.
"It was awesome to play and the passion in India is unrivalled. You just got to go and win a World Cup. You can't wait for it. It was a shift after two games. The openers were aggressive and it was a total buy-in from everyone. We will remember this year for a long, long time. This pips it all," he said before signing off.