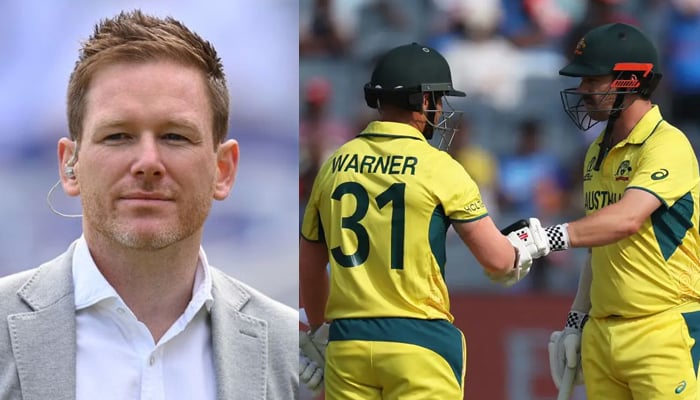 India has been cruising towards the World Cup 2023 Final, positioned as strong favourites to clinch the trophy. The team led by Rohit Sharma has achieved a remarkable feat, securing victory in 10 consecutive matches, marking their longest winning streak in ODI history. 
Former England skipper Eoin Morgan has outlined a strategy for Australia to overcome the Indian team in the tournament's final.
Speaking on Sky Sports, Morgan emphasised the significance of Australia's mental preparation ahead of the crucial match. Highlighting Australia's earlier loss to India in their World Cup 2023 opener, where the Pat Cummins-led side was dismissed for a mere 199 runs in Chennai, Morgan acknowledged the challenge ahead. 
He believes that while Australia possesses the capability to defeat India, it will undoubtedly be a demanding task.
"I think a lot of it is mental preparation...Australia are a side that have the genuine chance of overturning the force that India have been in this World Cup," Morgan said on Sky Sports.
The 2019 World Cup-winning captain said that Australia have to have an attacking approach against Indian bowlers.
"It is difficult to find a weakness in this Indian team. They have all bases covered. Even after injury to their star all-rounder Hardik Pandya, the Indians did not lose momentum. Nasser feels that Aussies need to find a weakness in their bowling when they bat by targetting every bowler and if any of them crumbles, go after him," Morgan said on the India vs Australia final.
Meanwhile, former England captain Nasser Hussain noted that New Zealand targeted Siraj in the semi-final, creating an opportunity to exert pressure on India. However, Nasser also acknowledged India's formidable bowling lineup, highlighting that each bowler poses a distinct threat.
"No sides have gone after Kuldeep Yadav in this tournament. New Zealand attacked Siraj. The thing with this Indian side is that when Siraj is hit, Shami comes back. Bumrah at death is quite brilliant....Australia will need to make Rohit do something different," Nasser Hussain said on the same show.
"If you find that one particular bowler is struggling, maybe be Mohammed Shami, whoever it is, you put more pressure on him," Morgan added to Nasser's point.
The final showdown against Australia is scheduled for Sunday, 19th November, at the Narendra Modi Stadium in Ahmedabad.