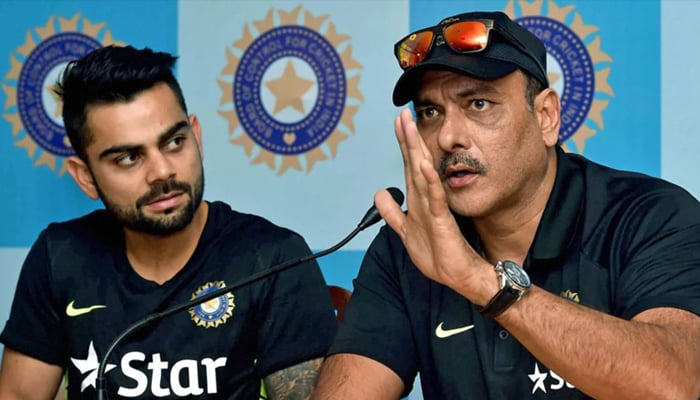 Former Indian head coach Ravi Shastri made a big claim about the middle-order batter Virat Kohli, saying that he can score yet another century in the ICC World Cup 2023 final against Australia at the Narendra Modi Stadium, Ahmedabad, on Sunday (November 19).

Kohli, 35, is the top-scorer of the tournament with 711 runs in 10 innings to his name with an astounding 101.57 average. He also scored three centuries and five half-centuries in the process and was India's best player with the bat during the semi-final against New Zealand.
Shastri opined that Kohli, who just scored his 50th ODI century, is writing his own script and it wouldn't come as a surprise if he ends up scoring yet another century in the World Cup final.
"Kohli is writing his own script, the kind of form he is in. Do not be surprised if another hundred is around the corner. He did it in the semifinals and he might as well do it in the final. There is nothing bigger than that," Shastri said while talking to the Times of India.
Australian openers Travis Head and David Warner are known for their aggressive-minded cricket while India have Rohit Sharma who has been on absolute fire during the first 10 overs. Shastri talked about the same overs saying that they will be crucial for both sides.
"I think that the first 10 overs are very crucial. India have got some great starts, especially with the way Rohit has exploded at the top. That makes a difference. Similarly with Australia, if they take off, that will give them a lot of confidence. David Warner, Travis Head and Mitchell Marsh are dangerous players," Shastri added.
He then went on to praise India's fast bowling attack consisting of Jasprit Bumrah, Mohammed Shami and Mohammad Siraj, saying it is the best India ever had in white-ball cricket.
"This is the best fast-bowling attack India have ever had in white-ball cricket. There are three terrific fast bowlers and then there are quality spinners in Ravindra Jadeja and Kuldeep Yadav.
"The skill sets are so good; it lends you a lot of variety. They do not need a pitch (of a certain type) to suit them; they can go anywhere in this world with this attack," he added.
Shami is the top wicket-taker of the tournament with 23 scalps to his name in just six innings while Bumrah has 18.