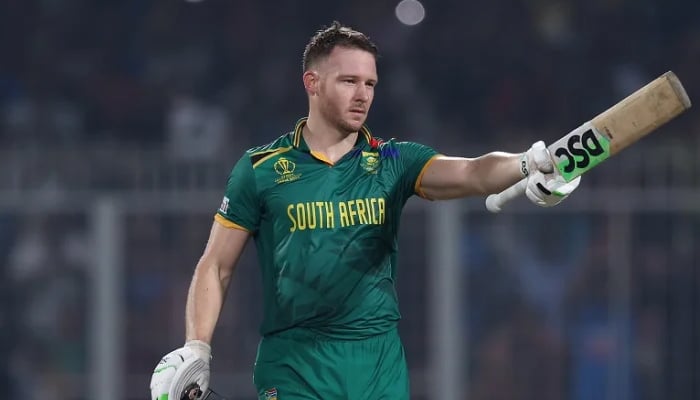 South Africa's left-handed batter David Miller is unsure whether he will continue playing ODIs till the 2027 ICC World Cup which is scheduled to take place in his home country alongside Zimbabwe and Namibia.
Miller, 34, would be 38 by the start of the 2027 World Cup and that is why he is unsure if he would still be playing Test and 50-over cricket by then but he could opt for Quinton de Kock's way of quitting ODIs and playing T20s where he can showcase his attacking cricket prowess.
"Shoo, with how my body feels right now, I can't answer that," he said in response to a question about playing in the 2027 World Cup in South Africa. "I'll see how I go. I will take it year by year and see how it goes. It is a long way out from that, and it's difficult to say."
"This game, your career can go by quickly, so we just wanted to enjoy the journey. We can definitely look back and say it was a great time, although it doesn't help losing the semifinal. The guys showed a lot of character throughout the tournament and tonight."
Miller then expressed frustration over missing out on a chance of qualifying for the Proteas' first-ever World Cup final.
"It's just very frustrating," said Miller. "You want to get to a final and have a crack at the trophy, but it was not to be for us."
"After the first couple of games I said to Klaasy that we need to keep training with the new ball, because there would be a stage where we'd be in the dwang, so stay sharp.
"The next game was against Netherlands and we were 30/4," Miller smiled. "It was really enjoyable going all the way through and anchoring the innings. I really felt like I wanted to hit fours and sixes the whole way through, but I just soaked up pressure."
South Africa were all out for just 212 runs in the semi-final against Australia courtesy of Miller's heroics, as the 34-year-old scored an astonishing hundred and took his side to a decent total, but that couldn't be defended.
"It was more about the partnership at that stage. Every run counted, it's a semifinal, we tried to salvage some sort of total…it was really cool to be out there," he added,