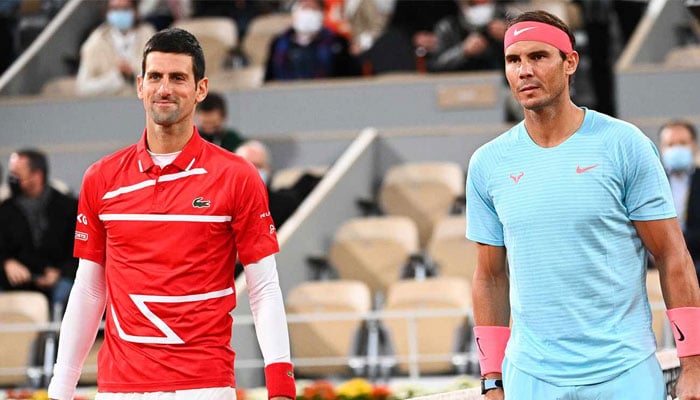 Serbian tennis icon Novak Djokovic expressed his desire to play his old rival Rafael Nadal for one more time after the Spaniard confirmed that he will return to the sport.
Djokovic, who is currently playing in the 2023 ATP Finals, talked to the press after his three-set win over Hubert Hurkacz in a third round-robin match and was asked about the likelihood of facing Nadal again.
The 36-year-old welcomed the prospect of facing his old rivals and said that he wants to play at least "one more match" against the 22-time Grand Slam winner.
"I think it would be nice for the sport to have at least one more match between Nadal and me. That's the biggest rivalry in terms of the amount of matches played that this sport ever had. Hopefully that can happen," said the Serbian.
Djokovic went on to praise Nadal's "never give up" mentality saying that despite having his fair share of injuries throughout his career, he kept going.
"He's a big warrior. He's somebody that really never gives up. With all the injuries that he had, keeps going. That's definitely something that you have to respect and admire about him and his spirit. For the world of tennis, no doubt that it's amazing news that he'll be back," he added.
It must be noted that earlier this week Nadal confirmed that he has been making great progress and his return on the court is near.
"Until now, I didn't know if I would ever play tennis again and now I think so. What has changed from a few weeks ago to now is that now I know that I am going to play tennis again," the Spaniard said.
"I didn't know it before, but now, honestly, I know it because the evolution is positive. Big steps have been taken lately. I'm not yet ready to say where. When I know, I will be the first to say it. It's a good period of my life. It's a step forward, without a doubt, and it means a lot."
Nadal and Djokovic have been competing at the highest level since their first encounter at Roland Garros in 2006 where the Spaniard emerged victorious.
That was the start of a legendary rivalry that would share 59 matches — a record in men's tennis — between them with some of the greatest encounters including the 2012 Australian Open final, which was the longest major final match by duration that lasted 5 hours, 53 minutes with the Serbian beating the Spaniard.