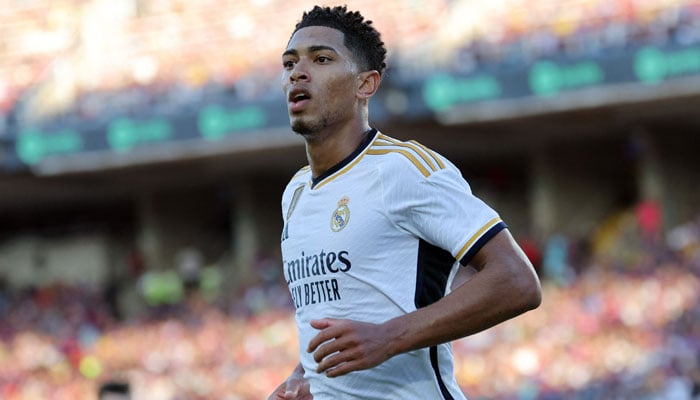 Real Madrid's ace Jude Bellingham has won the Golden Boy award for the year 2023 following his astonishing performances with his current and previous club, Borussia Dortmund, throughout the year.
The award comes less than a month after Bellingham bagged the Kopa Trophy at the Ballon d'Or ceremony in November in Paris, adding another individual award to his growing trophy cabinet.
The Golden Boy award is presented to the best footballer under the age of 21 each year and was introduced in 2003 by the Italian outlet Tuttosport. Big names like Wayne Rooney, Lionel Messi, Cesc Fabregas, Mario Gotze, Paul Pogba and most recently, Barcelona's Pablo Gavi, have clinched the award.
The 20-year-old midfielder finished with 485 points out of 500 total, which makes 97% of the votes, further proving that there was no one in contention to claim the prestigious award other than him.
Bellingham bagged the award after a spectacular season with Dortmund, where he was named the Bundesliga Player of the Season 2022-23 as he scored 14 goals and provided seven assists and almost led his side to the title.
Meanwhile, ever since completing his move to Real Madrid, Bellingham has been justifying the €103m tag and has emerged as their best player in no time with his consistent performances every week.
He has 13 goals and three assists in 14 matches across competitions this season and saying that he is one of the biggest reasons why Los Blancos sit on the second position in La Liga wouldn't be wrong as he has scored many winning goals.
However, right now, he is out of action after suffering a shoulder injury during a league match against Rayo Vallecano at the Santiago Bernabeu this month and is likely to remain out for two weeks.
It must be noted that Bellingham was on the radar of many top clubs during the transfer window with Man City, Real Madrid and Liverpool going head-to-head to get the 20-year-old's signature but the English footballer preferred Real Madrid, the club of his dreams.