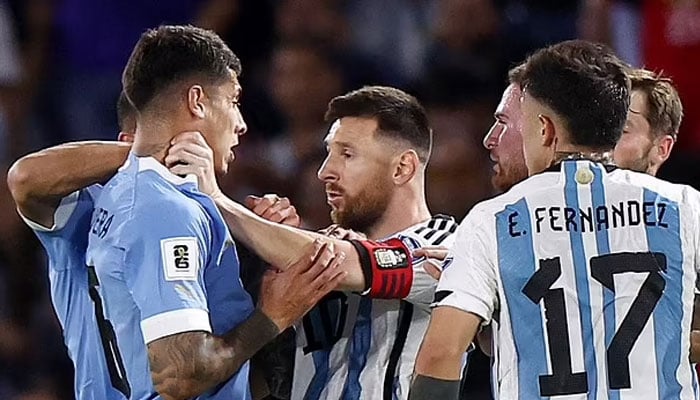 Argentina's captain Lionel Messi hit back at Uruguay's young players after the high-intense match between the two sides ended in a 2-0 defeat to the world champions at La Bombonera, Buenos Aires, on Friday (November 16).
During the ill-tempered and high-intensity game, Uruguay's midfielder Manuel Ugarte made an inappropriate and obscene gesture towards Argentina's Rodrigo De Paul which went viral all over social media in no time.
Messi didn't approve of such gestures and called out on Uruguay's young players and asked them to learn to respect their opponents a bit.
"I prefer not to say what I think. Young people have to learn to respect their elders. These games are always intense but very respectful, so they have to learn a little," Messi told reporters after the game.
Messi then went on to praise Uruguay saying that they were following Marcelo Bielsa's playing style, which is very common among South American football nations.
"You can see Bielsa's hand on the way Uruguay is playing. In all the national teams or clubs, including Argentina, his style was very recognizable. And he has a good generation of players [in Uruguay]."
The eight-time Ballon d'Or also praised his opponents and stated that they have physical and fast players who don't give much time to their opponents with the ball.
"They are an intense team and it was difficult for us to play our game," Messi said. "They have physical and fast players in the midfield. We never feel comfortable and we didn't find a way to posses the ball for a long period of time.
"So the game was played on a fast pace and we fall for that style, which isn't the best for us."
"We never felt comfortable in this match. Uruguay is a physical team, they have good teamwork. It is always like that against them," he added.
Argentina are now set to take on Brazil at the iconic Maracana in Rio de Janeiro on November 22.