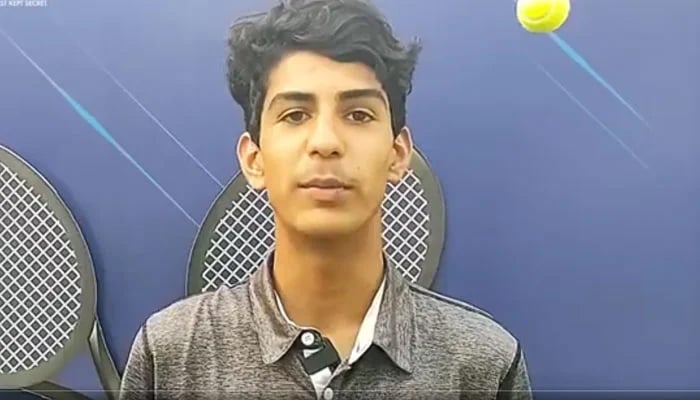 ISLAMABAD: Pakistan's Hamza Roman upset third seed compatriot and hot favourite Bilal Asim in a thrilling three-set match as the second leg of the ITF Pakistan J30 World Junior Tennis Championships got underway here at the PTF-SDA Tennis Complex Monday.
Hamza edged out Bilal 6-1, 4-6, 7-5 in the best match of the day. After losing the first game, Hamza started playing aggressive tennis, breaking back the 2nd game of Bilal in the same style to level the score 1-1. Hamza continued his winning pace and broke the 4th and 6th game of Bilal to win the first set comfortably 6-1.
In the second set, Bilal changed pattern of the game by playing a mix of cross-court and down-the-line shots, and serve and volley games. Both the players played an excellent game of tennis and reached 4-4. At this stage, Hamza made some unforced errors and hit the ball into the net resulting in losing the 10th game and 2nd set at 4-6.
In the decisive set, both the players exhibited a high standard of tennis and long rallies that ultimately finished in favour of Hamza at 7-5. The match lasted 2 hours and 29 minutes.
President PTF Senator Salim Saifullah Khan and Tariq Mehmood Murtaza, president of Islamabad Tennis Association, in a message, conveyed their best wishes to all the participants, especially the foreign players for a comfortable stay and a good tournament.
Mrs Zarmeeneh Rahim was the chief guest at the opening ceremony.
Results:
Boys' singles 1st round: Ahmad Nael Qureshi (PAK) bt Mustansir Ali Khan Barons (PAK) 6-1, 6-0, Aahil Kaleel (SRI) bt Muhammad Kashan Tariq Qureshi (PAK) 3-6, 6-3, 6-2, Taichi Tamura (JPN) bt Muhammad Haider Ali Rizwan (PAK) 2-6, 6-3, 6-3, Jain Pyun (KOR) bt Abdullah Khan (PAK) 6-2 6-1, Hamza Roman (PAK) bt Bilal Asim (PAK) 6-1, 4-6 7-5, Toki Adachi (JPN) bt Inam Qadir (PAK) 6-0, 6-2, Muhammad Hamza Aasim (PAK) bt Thanathip Poti (THA) 6-1, 6-3, Naqeeb Hussain (SRI) bt Muhammad Husnain Ali Rizwan (PAK) 6-0, 6-0, Asad Zaman (PAK) bt Abdul Baasith Cader (SRI) 6-1, 6-2, Yoshito Oda (JPN) bt Ahtesham Humayun (PAK) 6-4, 6-1, Takuto Fuke (JPN) bt Rayyan Khan (PAK) 6-0, 6-1.