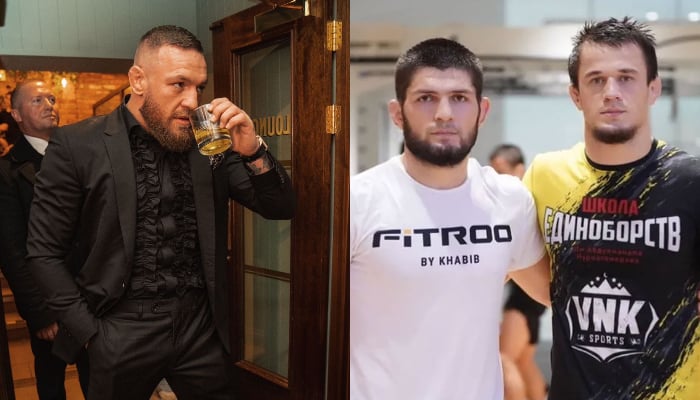 UFC star Conor McGregor reignited his rivalry with the retired UFC icon Khabib Nurmagomedov after the latter's cousin, Usman Nurmagomedov, was banned for using a prohibited substance before the fight.
Usman, the current Bellator champion, tested positive for using a prohibited substance in the fight against Brent Primus on October 7, which he won, and has now been banned for six months including a $50,000 fine.
McGregor, who lost to Khabib through submission in a famous 2018 fight, didn't miss the opportunity to get back at the former MMA star and called him and his family "hypocrites of the highest order".
"I am not one bit surprised upon hearing another of the Nurmagomedov team testing positive for steroids, hypocrites of the highest order," McGregor posted on X, formerly known as Twitter.
"Steroids are haram. The shame of Allah hangs over the Nurmagomedov clan. Cheaters! Abdulmanap [Khabib's late father] is doing somersaults in the grave."
However, soon after receiving backlash from fans for making inappropriate comments about the Nurmagomedov family and especially Khabib's late father, the Irishman deleted his post.
It must be noted that Usman has not been stripped of his current championship due to the nature of the failed test. He stated that he was undergoing medical treatment months ago during which the substance may have entered his body.
"I would like to give a comment regarding latest news on my suspension. The results of my test revealed a prohibited substance that entered my body through medications, prescribed to me by a doctor. A few months before my fight, I was undergoing treatment, but unfortunately I did not notify the athletic commission in advance," Usman said.
He then confirmed that he has provided all the necessary documentation to the concerned authority so they could complete their investigation.
"I would like to note that the California State Athletic Commission conducted its own full investigation, where I provided all the necessary documents, doctor notes and medical certificates, thanks to which the period of my disqualification was reduced to 6 months, instead of longer suspensions accepted in such cases."