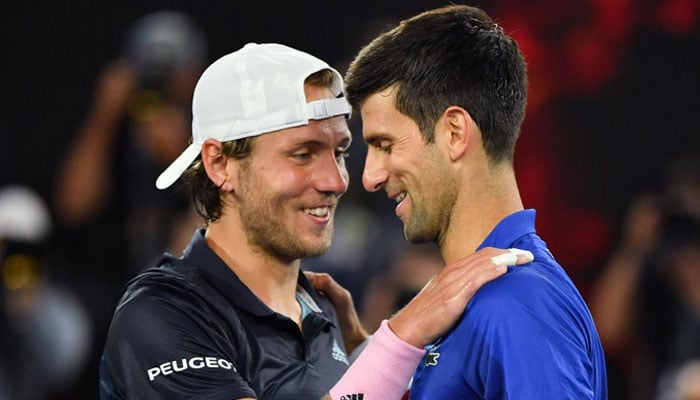 ATP Tour veteran Lucas Pouille had his say on the Greatest of All Time (GOAT) debate in Tennis and he has firmly sided with the Serbian icon Novak Djokovic following yet another astonishing year.
Djokovic, 36, had a stellar 2023 year as the Serb featured in finals of all four Grand Slams and clinched three of them — Australian Open, Roland Garros and US Open — and just grabbed his record 40th Masters 1000 title in Paris last week after beating Grigor Dimitrov in straight sets.
The 24-time Grand Slam triumphant is showing no sign of dip in performance and also confirmed in an interview a few days back that he is coming for "every record".
Poullie stated that the way Djokovic managed to keep himself fit, he sees himself playing for two or three more years.
"Today, he is 36 years old, he has 19, 20 years of career, he has almost 100 titles and he is still just as hungry and what is extraordinary is that he still seems the freshest on the ground," Pouille told Eurosport.
"I think he can play for two, three or even four more years. The question is rather whether the desire will still be there.
"The desire to continue to make all these efforts, these sacrifices to be at the highest level. But for me, he still has the energy to play for a very long time.
"Is Novak Djokovic the greatest? Yes, well yes, the figures speak for themselves. For me, yes, it's the biggest. He's the GOAT as they say."
It is worth mentioning that despite the presence of many world-class talented players like Carlos Alcaraz, Andrev Rublev, Daniil Medvedev and others, it's Djokovic who managed to remain on top and completely dominated the current year.
It must be noted that Djokovic and Pouille faced one another three times with all of their encounters happening in 2019 and the Serb won all of their matches in straight sets.