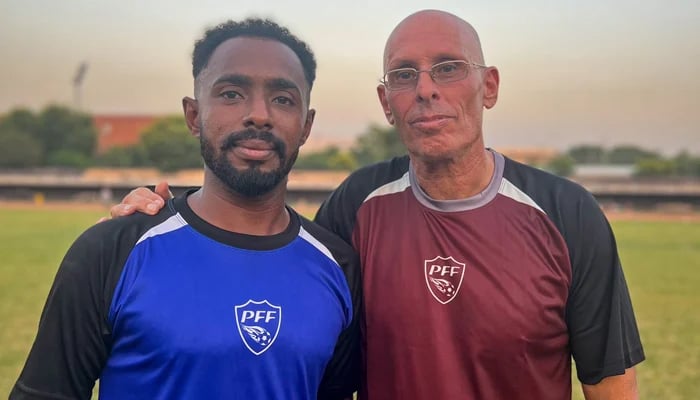 KARACHI: Pakistan national football team's new head coach, Stephen Constantine, has expressed his optimism and determination ahead of Pakistan's FIFA World Cup 2026 Qualifier against Cambodia.
Constantine, who has been at the helm of the team for a short period, acknowledged the limited preparation time but expressed confidence in the players' dedication and motivation.
"I think everybody realises these two games are massive for the future of Pakistan football. And we will give everything we have in both games to try and make a little bit of history going into the second round," he said while talking to a group of Pakistani football journalists on Zoom.
"This is not just a football thing. This is national pride. There are 211 countries that play football around the world and we are ranked 197. It's about time we change that. And, the only way that we're going to change that is by the support of everybody, not three or four people in the PFF or me as the coach, it needs to be everybody that's in the football community. We need to unite and get behind Pakistan football as one family and I think if you don't do that, then we are going to have another eight years of not playing football in Pakistan," he expressed.
When asked about the selection process of the team, Constantine shared his approach, stating that he had been studying scouting reports of overseas players for several weeks and had already communicated with many of them. However, he acknowledged the challenge of selecting local players due to limited information and expressed an understanding that not everyone might be content with the final squad.
"I know it's not ideal, but this is the situation that we have. I would have liked to have a month, or six weeks, but we don't have a month or six weeks. So, any squad that I pick, I'm pretty sure someone is not going to be happy. And but that's just the way it is so," Constantine said.
Drawing a comparison between the football scenes in Pakistan and India, Constantine highlighted the lack of a professional league in Pakistan as a major hindrance. He underlined the importance of regular games for local players and emphasised that relying solely on overseas players wouldn't lead to sustained success.
"The game is the biggest teacher. If we are not playing, how can we develop our players?" he asked.
"So, I go to the firm base players who have the foundation who have played a decent level are playing at a very good level. And I am trying to give the players as much information as I can. And, hopefully, when we get the combination it will click and when it clicks," he said.
Constantine refrained from revealing the team's formation against Cambodia but stressed the importance of players understanding their roles within the system, which he believed had not been addressed adequately in the past.
When asked about the state of facilities in Pakistan, Constantine advocated for basic facilities to be provided to ensure player safety and proper training. He stressed that irrespective of the country, such standards should be met for the team to function effectively.
Reflecting on the team's recent form, Constantine acknowledged concerns but highlighted the players' motivation to represent Pakistan. He mentioned that he had spoken to the overseas players about their commitment to the national team and believed that their enthusiasm would make a significant difference.
"What kind of player do we need for the Pakistan national team? Let me tell you what we need. We need fighters. We need people who are going to run, we need people who are going to fight. The quality of football at the moment is not the best. If we don't run, if we don't fight, we have no chance. So, we need the attitude. And, I know you have it in this country, you are fighters, you are born fighters. But if you don't go and look for these fighters, you will not find them,"
"We don't have the Football Foundation at the moment. We need to build that and to build that we need our kids to play games. We need a national league. We need a second division. We need a third division. We need a youth development league. We need a district league, we need a state League. Without these things. We are never going to achieve anything," he said.
"If India can go to the 2019 Asian Cup. Why not Pakistan?" he asked.
"I give you one example, Iceland. Iceland has a population of 400,000 people. We have a village in Punjab that have more than 400,000 people. How is possible the Iceland go to the World Cup and beat England, they go to the Euros and do well. Why? Because they have the structure, because they are coaching their young players, they are developing the young players. Iceland has more than 200 players playing outside at the moment. I have 54 players of Pakistan origin playing outside only 11 of them have committed to Pakistan, why? Because we are not given them the respect or the facilities when they come home to Pakistan. We must change this," he added.
In response to whether Pakistan could beat Cambodia, Constantine remained cautiously optimistic, saying, "I cannot predict, nor will I predict what's going to happen over the two games. But I think that people will see a very different Pakistan."
The World Cup qualifiers between Pakistan and Cambodia are scheduled to take place on October 12 and 17, 2023. The first leg will be held in Cambodia while the second in Pakistan.

Faizan Lakhani is Deputy Editor (Sports) at Geo News.