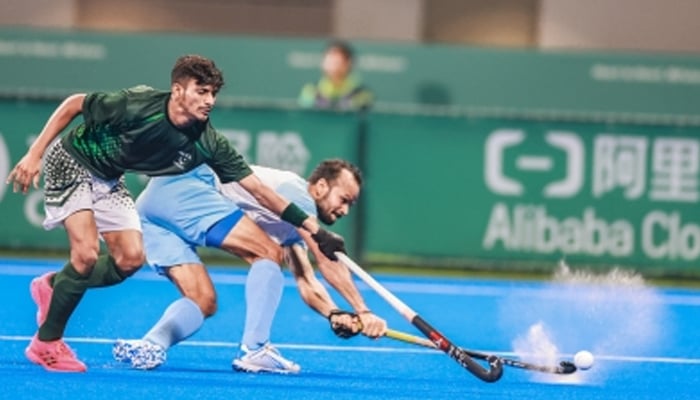 ISLAMABAD: While the country's hockey fans are still in disbelief over Pakistan's record defeat (2-10) at the hands of arch-rivals India in the 19th Asian Games pool hockey match, head coach and team manager Saeed Khan apologised to the nation and promised that the team would come up with a new vigor in a crucial match against Japan on Monday (today).
A defeat or draw against Japan would mean curtains for Pakistan while a victory would ensure Green Shirts a place in the semi-finals and a chance to play for the medals.
"I apologise to the nation for this huge defeat against India. We have never lost with such a big margin against India. I was the team member when we defeated India 7-1 in the Asian Games held in New Delhi in 1982. Though we were expecting defeat against a powerful Indian team ranked 3rd in the world, we never thought of losing with such a huge margin," Saeed said.
"Today Pakistan Hockey Federation (PHF) President Brig (rtd) Khalid Sajjad Khokhar also talked to players on a video link and encouraged them to go all out against Japan, leaving the bitter taste of defeat against India behind," he added.
He hoped that boys would forget what happened against India, coming out strongly with fresh spirit to win the match against Japan.
"I strongly believe that Pakistan can beat Japan as we did in the recently held Asia Cup in India. We are now looking forward to winning and for a place in the semis which is possible."
After winning the Asian Games gold in 2010, Pakistan defeated India in a pool match in 2014 Asian Games before losing to the arch-rivals on sudden penalty-corner shootout in 2014.
Since the current regime took over Pakistan have been struggling to make it to the semis of the Asian Games and chances even on Monday of Pakistan's win against Japan look bleak.
"There is no one reason for such defeat. Like every segment of society in Pakistan, the game of hockey is dying a slow death. There is absolutely no accountability in hockey or in any other organisation. Millions of rupees in the past which were taken in the name of players' development have been misappropriated without any clue. Unless and until we introduce the accountability process, we cannot improve the plight of the nation in any sector what to talk about sports," the head coach said.
According to Saeed, the second major cause of such a poor show against India was the absence of quality support staff with the team.
"We don't even have the required support staff with us. Other teams have eight to ten-member staff and we hardly have two to three. You cannot make your player utilise their talent in the best possible way. These players don't have any financial security which haunts their progress," he said.
"There should be a set amount for hockey development in Pakistan with every penny to be made accountable. India invests over Rs2 billion on hockey alone each year and we don't have any set amount for hockey development or for players financial security."
The head coach also blamed the absence of some key players as the reason for such a poor performance against India.
"Look, we were missing ten key players in the Asia Cup. Four are back while the rest of the six who formed the nucleus of the team are still busy playing in the European league."
Saeed revealed that coaches and managers had no say in team selection.
"Mismanagement is ruling the roost as in between the camp for Asian Games, players were sent to five-a-side event in Salalah which also hindered the preparations."
Abdul Mohi Shah is a senior reporter for The News