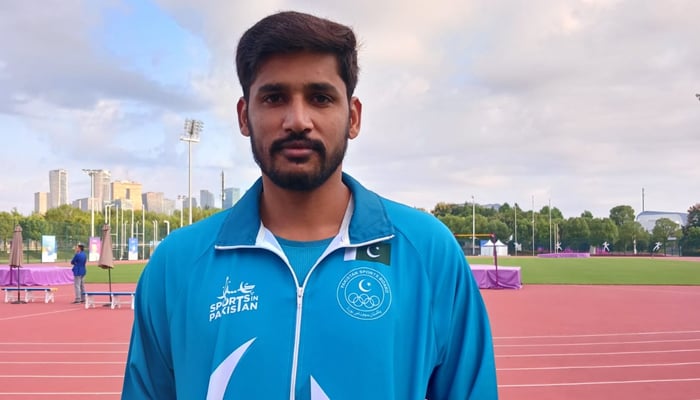 KARACHI: Pakistan's Sharoz Khan qualified for the final of the High Jump event during the ongoing Asian Games on Monday.
He registered his personal best of 2.10m to qualify for the final, which will be held on October 4.
According to the event's rules, qualifying performance 2.26m or at least 12 best performers advanced to the final.
Earlier, Pakistani athletes continued their subpar performance in the track and field events on Sunday in the ongoing Asian Games 2023 which are being held in Hangzhou.
In the 200m heat, Pakistan's top athlete Shajar Abbas and female sprinter Tameen Khan both failed to qualify for the semi-finals.
Shajar Abbas completed the 200m race in 21.53 seconds and finished 17th overall.
Abbas — who was far behind his personal best in the 200m heat — also stepped outside the lane once during his race.
On the other hand, Tameen was disqualified for lane infringement in her race.
It must be noted that Abbas massively underperformed and failed to impress in any of the heat.
Earlier, in the 100m heat, he failed to qualify for semi-final as he finished sixth with a timing of 10.59.
It needs to be mentioned that Shajar Abbas is competing all alone in the Asian Games as his coach, Rana Sajjad, who has been instrumental to the athlete's success, did not travel to China with him.
Abbas is also Pakistan's first athlete to ever qualify for the Commonwealth Games 200m final, a feat which he achieved in Birmingham last year.
Abbas won a gold medal in 200m during the Imam Reza Cup in Mashhad, Iran, last year. The Kasur-born also bagged two medals in Kazakhstan, a 100m gold medal and 200m bronze, during the Qosanov Memorial Championships in 2022. He has also clinched many medals at the national level.
Faizan Lakhani is Deputy Editor (Sports) at Geo News.