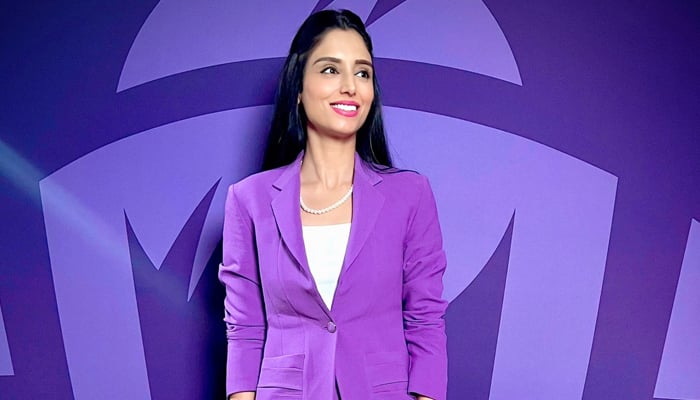 Renowned Pakistani cricket presenter Zainab Abbas is set to feature in the ICC World Cup 2023, which begins in India on October 5.
Taking to X, formerly known as Twitter, Zainab said that she is "humbled to be presenting in India at the Cricket World Cup 2023".
Earlier, the International Cricket Council (ICC) announced commentary panel for the World Cup 2023 in India, which begins next month, on Friday. Pakistan's Ramiz Raja and Waqar Younis are also part of the panel.
"ICC.tv's coverage of the event will include a pre-match show, an innings interval programme and a post-match wrap-up. Former Australia captain Ricky Ponting and former England skipper Eoin Morgan will join the coverage," the ICC said in a press release.
"They will be supported by other World Cup winners Shane Watson, Lisa Sthalekar, Ramiz Raja, Ravi Shastri, Aaron Finch, Sunil Gavaskar and Matthew Hayden.
"The commentary box will mark the return of Nasser Hussain, Ian Smith and Ian Bishop, who called the memorable 2019 World Cup final between England and New Zealand.
"More international icons and former captains including Waqar Younis, Shaun Pollock, Anjum Chopra and Michael Atherton will also be calling the action live from the commentary box.
"They will be joined in on the fun by former international stars like Simon Doull, Mpumelelo Mbangwa, Sanjay Manjrekar, Katey Martin, Dinesh Karthik, Dirk Nannes, Samuel Badree, Athar Ali Khan and Russel Arnold.
"The panel will be rounded off some of the leading broadcasters in the world who have had their fair share of iconic calls, including Harsha Bhogle, Kass Naidoo, Mark Nicholas, Natalie Germanos, Mark Howard and Ian Ward."
The ICC World Cup 2023 will take place in India with 10 teams fighting for the elusive title across 10 venues from October 5 to November 19, with the Narendra Modi Stadium in Ahmedabad hosting the tournament opener and the final.
The Cricket World Cup will be played in the round-robin format with all teams playing against each other for a total of 45 league matches.
The top four teams will qualify for the semifinals, which will be held in Mumbai on November 15 and in Kolkata on November 16. The semi-finals and the final will have reserve days.