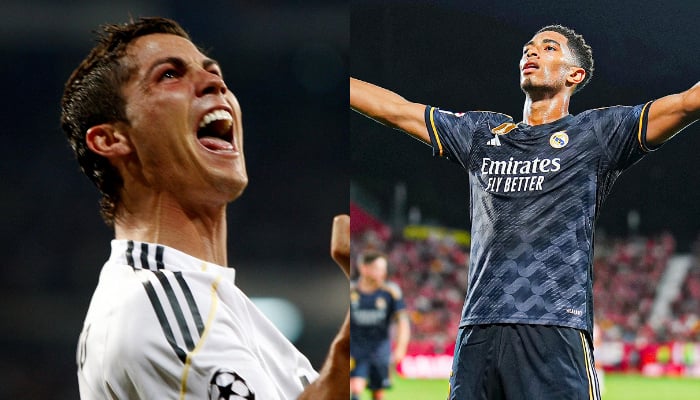 Jude Bellingham has been justifying the €103m tag ever since making his debut with Real Madrid and it has become nearly impossible to not mention him when talking about the best young players in the world.
Bellingham, 20, is currently the top-scorer of La Liga with six goals in seven matches and to say he is one of the biggest reasons why the Los Blancos are at the top of the points table wouldn't be wrong as most of his goals were winners.
Bellingham has taken Spanish football by storm and continues to do something that sets him apart from the rest of the players everytime the Whites play.
With a goal and assist in Los Blancos' 3-0 win over Girona on Saturday night, Bellingham extended his league goal tally to six and equalled the legendary Cristiano Ronaldo's record with the mighty Madrid.
Apart from Bellingham and Ronaldo, no other Madrid player managed to find the back of the net six times in the opening seven league games.
Legendary players like Rudd van Nistelrooy, Ronaldo Nazario, Gareth Bale, and Karim Benzema couldn't score six goals in their first seven league games.
But, Bellingham's six league goals in seven matches isn't a Real Madrid record as Benzema struck eight in the 2021-22 season.
While Ronaldo bagged eight in 2011-12 and then a whopping 15 goals in the 2014-15 campaign.
In Madrid's win, Bellingham also produced a moment of magic in the 17th minute and assisted Madrid's on-loan striker, Joselu, with a breathtaking outside-the-foot pass (also known as trivela), imitating his teammate Luka Modric who has mastered the art of trivela.
It must be noted that Bellingham was on the radar of many top clubs during the transfer window with Man City, Real Madrid and Liverpool going head-to-head to get the 20-year-old's signature but the English footballer preferred Real Madrid, the club of his dreams.
Bellingham was also named the Bundesliga Player of the Season 2022-23 for his astounding campaign with the Black and Yellows where he scored 14 goals and provided seven assists.