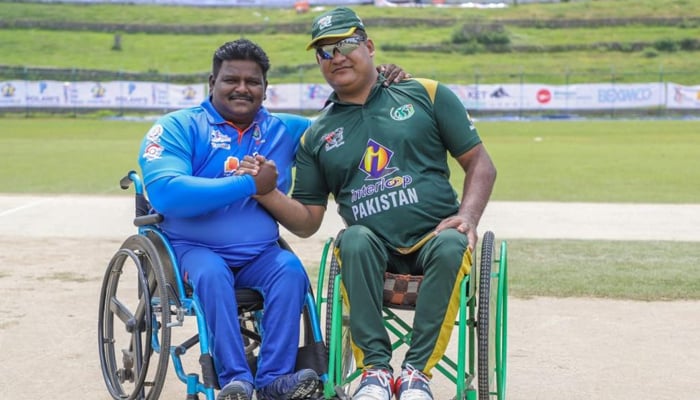 The T20 Wheelchair Cricket Asia Cup 2023 is starting from October 4 in Nepal, which is co-hosted by Pakistan and Nepal,
Besides Pakistan and Nepal. the teams of India, Bangladesh and Sri Lanka will be seen in action. 11 matches will be played in the event and the final of the Asia Cup will be played on October 9 at Tribhuvan University International Cricket Stadium, Kathmandu.
The defending champion Pakistan squad will leave for Nepal via Dubai on the morning of October 2 and begin their campaign against Nepal. Mohammad Zeeshan will lead the national team.
Other players include Imran Amin, Sajid Ali Abbasi, Muhammad Faiz, Muhammad Latif, Ahmed Yar, Muzin Nawaz (wicketkeeper), Mohsin Thabeel, Umar Gul, Muhammad Adnan, Muhammad Shahid, Mushal Khan, Asif Nadeem, Zulfikar Swati and Khalid Shah. All the teams will reach Nepal on October 3.
The T20 Wheelchair Cricket Asia Cup 2023 was to be held in Pakistan, but due to tension in India-Pakistan relations, the event had to be shifted to the neutral venue Nepal.
"The event, being hosted by Pakistan was earlier scheduled to take place in July but was pushed to October due to the rainy season in Kathmandu," President PWCC Rookhsana Rajpoot had said last month to APP.
According to Rookhsana, the PWCC was all set to host the event in Pakistan but due to the Indian team not coming to Pakistan, it was decided to shift it to Nepal. She said every effort would be made to make the event a real success. "We'll be trying to ensure that fans enjoy exciting contests during the event," she said.
She said geographically Nepal was the best destination for all the participating teams to arrive. "The inaugural edition of the tournament was also held in Nepal in May 2019," she said.
The PWCC would be responsible for covering the event cost, while Nepal's National Disability Sports for All Organization (NDSO) and Physically Challenged Cricket Association of Nepal (PCCAN) would provide logistic support.
Atique ur Rehman is a senior reporter for Geo News.