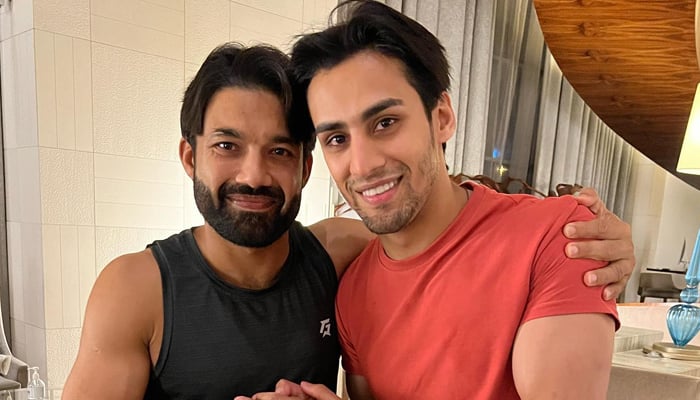 Pakistani YouTubers have denied applying for Indian visas ahead of the ICC World Cup 2023.
According to social media reports, YouTubers Nadir Ali, Momin Saqib, Saadur Rehman aka "Ducky Bhai" and a UAE-based Indian TikToker known as "Love Khaani", who pretends to be a Pakistani, have not been issued visas for the mega event.
These rumours gained strength following unexpected delays in granting of visas to Pakistani players who had to change their plans for the tournament and reached Hyderabad last night.
Responding to these claims, Ducky Bhai said that there are some rumours circulating that he applied for an Indian visa for the ICC World Cup 2023 and it got rejected.
"Please know this is completely FAKE news. I never applied for any visa related to this event. Always check the facts before believing and spreading any news," he said in a statement on X, formerly Twitter.
On the other hand, Momin Saqib also termed these reports "fake" and urged everyone to not rely on unreliable sources.
"There's news circulating that my Indian visa got rejected. Just to clear the air, I haven't even applied yet! I'd also like to take this opportunity to emphasise on the importance of fact-checking & verifying news from authentic sources before spreading misinformation Thank you."
It is important to note that Pakistani fans and journalists are still waiting for their visas for the showpiece event.
The tournament involves 48 matches being played over 46 days at 10 different venues with the final set for November 19.
Pakistan is slated to play two warm-up matches -- against New Zealand on September 29 and Australia on October 3 -- both in Hyderabad.
Pakistan open their World Cup campaign against the Netherlands, before facing arch-rivals India in the over 130,000-seat Ahmedabad Stadium on October 14.
India will begin their campaign against Australia on October 8 followed by the hotly-anticipated clash against Pakistan.