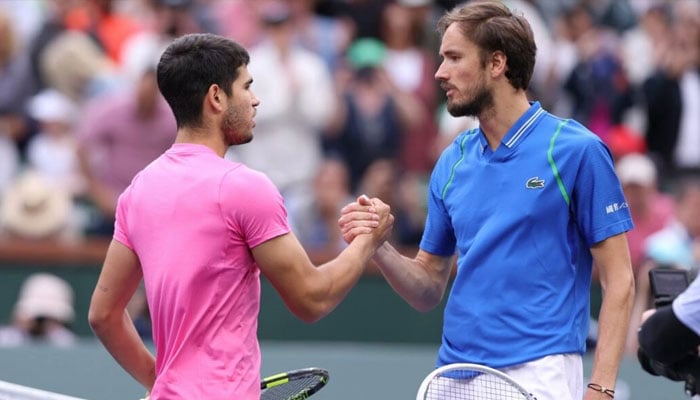 Carlos Alcaraz is arguably the biggest talent in tennis as of today and there seem to be only a few players who can stop the Spaniard from creating a dynasty.
Novak Djokovic and Jannick Sinner are two players who have been competing against the 20-year-old for the last year but Daniil Medvedev, world number three, could just be the third person to form a rivalry with Alacaraz.
Djokovic, 36, only has a few years left in him, possibly three or four, depending on how fit the Serb keeps himself but Sinner and Medvedev can challenge Alcaraz for many years to come.
Medvedev's most recent win against Alcaraz came in the semi-final of the US Open, a tournament the 20-year-old won in 2022, and the Russian is eager to face him for one more time this year.
Both players are competing in the China Open currently, and the Russian expressed his desire to meet the Spaniard in the tournament's final this week.
"I think if we [he and Alcaraz] end up facing each other this week, we will both be happy, since we would both be in the final," the 27-year-old said ahead of the tournament.
"It's a good goal, trying to make this happen. At the same time, as I said, there are a lot of great players in the draw," he added.
"It is very hard, it is as if it were the draw of a Masters 1000 or a Grand Slam. In a way, it's even stronger than a Grand Slam, where you don't have such complicated first rounds. It's going to be very interesting, I think it's very rare to see such a strong ATP 500, it will be interesting to see who does it better. I think we are going to see different results among the seeded players, many of them could lose in the first round, there is no easy match here."
Sinner is another player who has, in the past, troubled Alcaraz as the pair are all square 3-3 in their head-to-head and played some thrillers including a five-hour intense battle at the 2022 US Open final in which the Spaniard emerged triumphant.
Meanwhile, Alcaraz ended Djokovic's 14-match win streak at Wimbledon in June this year but the Serb got his revenge in the Cincinnati Open final in August.