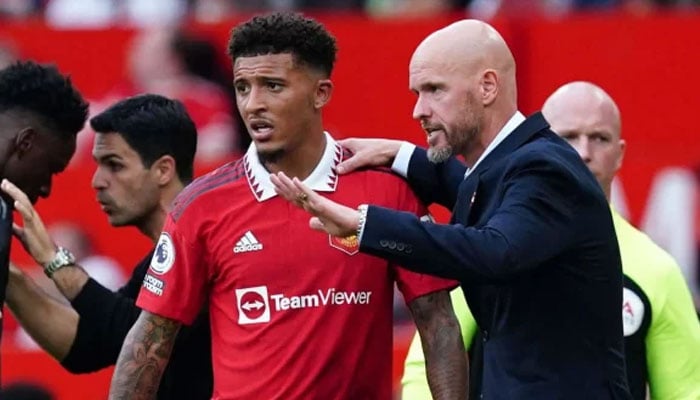 From being labelled as one of the most promising talents of recent times to not even being allowed to train with the first team, Jadon Sancho's career seems to be going backwards.
After not being allowed to train with the first team following a bust-up with head coach Erik Ten Hag, Jadon Sancho has now been completely shut from all first-team facilities at Manchester United, including the dinner room, reported Daily Mirror on Tuesday.
The footballer has been training with the academy players ever since Man United put him on a "personal training programme" but now he has been instructed not to use any first-team facility.
It was reported that Sancho was asked to apologise to Ten Hag but the 23-year-old refused. Man United are still persistent that all of this can be over if the right-winger apologises to the Dutch manager.
Sancho's teammates also urged him to apologise to Ten Hag to end his feud with him. A source close to players was reported saying: "Jadon's team-mates have been telling him to back down and say sorry to the boss. They want him to apologise. They sympathise with him and the way he feels, but recognise a line was crossed with what he posted."
It all started on September 3 when the English footballer was left out of United's squad which faced a 3-1 defeat to Arsenal.
When asked the reason for Sancho's exclusion from the squad, Ten Hag explained that the decision was taken following the 23-year-old's poor performances during training sessions.
"Jadon, on his performances in training, we did not select him," the Dutchman said. "You have to reach a level every day at Manchester United and we can make choices in the front line. So for this game he was not selected," he said.
However, the Dutchman's comments were not ignored or taken lightly by Sancho who decided to speak up in order to defend himself.
"I will not allow people saying things that is completely untrue," Sancho posted. "I have conducted myself in training very well this week.
"I believe there are other reasons for this matter that I won't get into, I've been a scapegoat for a long time which isn't fair!
"All I want to do is to play football with a smile on my face and contribute to my team."