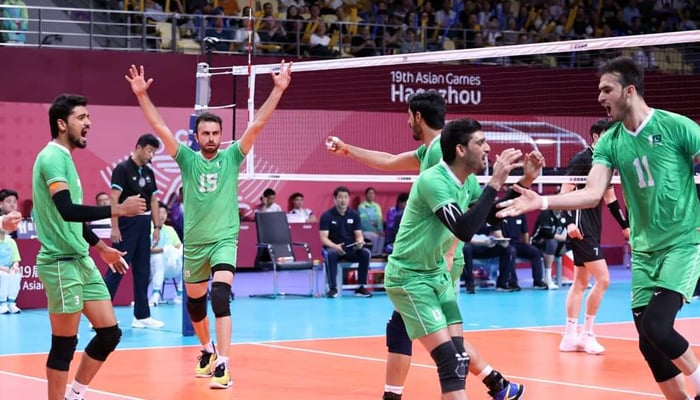 LAHORE: Pakistan on Tuesday (today) will face India in the fifth position game of the men's volleyball event of the 19th Asian Games at the China Textile City Sports Centre Gymnasium in Hangzhou.
The match begins at 3:30 pm PST.
"We had good training today and we are working to have a good performance tomorrow," Pakistan's Brazilian coach Issanaye Ramires Ferraz told The News from Hangzhou.
"It will be a great game and we are ready for that," Issanaye was quick to add.
Meanwhile, a senior Pakistan team player told this correspondent from Hangzhou that it will be a good game.
"It will be a good game but we can beat India easily," the player said.
After beating Mongolia, Chinese Taipei and South Korea in three successive games, Pakistan went down to Qatar 3-1 in the quarter-finals.
Pakistan volleyball squad
Abdul Zaheer, Hamid Yazman, Farooq Haider, Murad Khan, Murad Jehan, Mohammad Hammad, Musawar Khan, Nasir Ali, Usman Faryad Ali, Mubashar Raza (captain), Mohammad Kashif Naved, Afaq Khan; Officials: Issanaye Ramires Ferraz (coach), Naseer Ahmed, Ihsan Iqbal, Armin Golkari (video analyst), Lucas Ferreira Rodrigues (trainer), Saeed Ahmed Khan (manager).
Boxing
On Tuesday, Pakistan will also begin its boxing journey in the quadrennial event. Mohammad Qasim will make his international debut when he meets Nawwaf Alzahmi of the UAE in the men's 51-57kg preliminaries round 32 at the Hangzhou Gymnasium.
Ibrahim, Zoahaib Rasheed and Fatima Zehra are the other boxers who will also be seen in action in the event which is also the qualifying round for Paris Olympics.