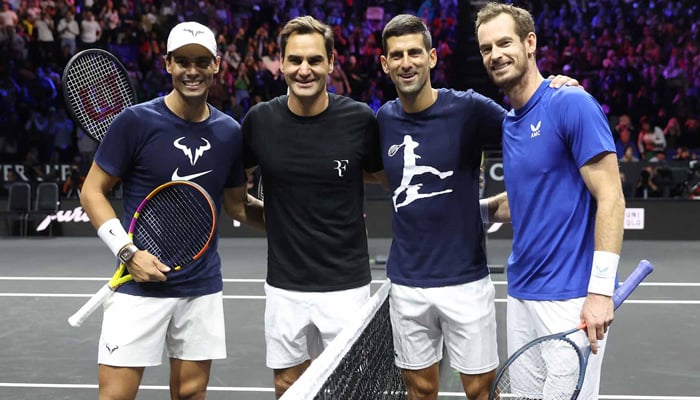 Novak Djokovic, Andy Murray, Roger Federer and Rafael Nadal were considered "The Big Four" in tennis as the four icons competed at the highest level for over 20 years.
Djokovic, Murray and Nadal are still active and competing with the new generation — where we have players like Carlos Alcaraz, Daniil Medvedev, Stefano Tsitsipas, Andrey Rublev and others challenging for every title — while Federer tennis called time on his illustrious career in September 2022.
Out of the Big Four, only Djokovic — who won three Majors in 2023 —is still going strong at the age of 36. Nadal hasn't competed since January 2023 after sustaining a hip injury and Murray is struggling to find his old self.
The Greatest of All Time (GOAT) debate has been going on in tennis for a long time but it sparked once again when Djokovic claimed his record 24th Major in September after beating Medvedev in the 2023 US Open final.
While some believe that the debate has been put to rest after Djokovic's latest triumph, others still consider Federer or Nedal as the GOAT.
Murray, three-time Grand Slam champion, also weighed in on this debate saying that the consistency the Serb has shown is unmatched.
Speaking in an interview at the Zhuhai Championships last week, the English international showered praises on Djokovic's 2023 season.
"I think what he achieved at the US Open, and also for the whole of this year, is incredible. To still be doing what he is physically at 36 is very impressive," said the former world No 1.
"The motivation and the drive to keep winning and keep performing at that level, it's brilliant. I think of all those guys, Roger, Rafa, they have all had long careers. But certainly none of them, I don't think, have played at the level that Novak is just now at this stage of their careers so consistently."
"I said that after Wimbledon, everyone was saying it was a changing of the guard, but it wasn't for me," explained the Brit in an interview with the BBC.
"It was quite clear Novak had won two of the first three slams and was very, very close in the final of Wimbledon. He proved that he's the best player in the world again yesterday and like I said it's up to the youngsters to improve enough to take him."
Following Djokovic's US Open triumph, two-time Olympic gold medallist Murray backed his fellow 36-year-old for more major glory.

"I don't think he's going to stop at 24 titles, but you never know how long it will last. Physically, motivation, whether someone like [Carlos] Alcaraz improves – he's an amazing player Alcaraz, he's brilliant, but to do what Novak is doing on a consistent basis is different.
"It's not the same as doing it for 15-20 weeks a year like Novak is doing, every time he steps on the court. I do think that Alcaraz will soon get to that level but I don't think this is going to be the last time that Novak wins a Grand Slam."