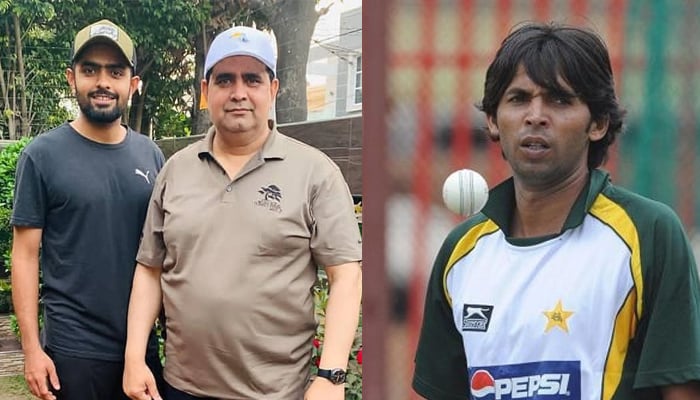 Former Pakistan pacer Mohammad Asif made many statements during an X, formerly known as Twitter, space session on Friday night that were nothing less than a surprise among the cricket fraternity.

Asif, 40, claimed that it was him who selected Pakistan's skipper Babar Azam during trials but he also weighed in on the 28-year-old's display during the powerplay in T20I cricket.
"I selected Babar Azam in the trials after he faced two balls only, you can ask his father that I picked Babar in ZTBL trials. I rate highly, he is one of the best batters in the country but he plays dots in the power-play and puts pressure on Rizwan," Asif said in an X space.
"I can bowl a maiden over to Babar Azam in T20 cricket even today, he cannot hit the ball if you bowl good deliveries to him."
In response to Asif's claims, Babar Azam's father Azam Siddiqui shared an intriguing anecdote about his son's early cricketing journey on his Instagram account.
Siddiqui recalled an occasion when, at the young age of 16, Babar faced Mohammad Asif in a club match.
During that period, Asif was striving for a comeback after his match-fixing scandal. Although Babar scored an impressive 84 runs, Asif successfully got him out. Following his dismissal, Babar voiced his frustration, stating that Asif had used offensive language towards him. Nevertheless, his father provided comfort by highlighting the 11 fours Babar had hit against Asif.
Shortly after the cricket match, Babar participated in trials for the ZTBL bank team at the National Academy. While Babar was getting ready for the trial, dressed in his cricket pads, Asif approached him in a cheerful manner and inquired,
"Oye Chhotu, Kidhar [Hey, where are you headed?]," Asif said with Babar stating in reply, "Asif bhai, I am here for a trial with the bank team."
In reaction, Mohammad Asif promptly approached the bank management with a firm attitude and voiced his support for Babar. He questioned, "Why are you showing reluctance towards him? He scored 11 fours against me." He emphatically advised, "Take note of his name and consider adding him to the bank team; he will undoubtedly be a valuable addition."
Azam Siddiqui wrapped up his post with a reflective statement: "Dear Mohammad Asif, every person bears responsibility for their own deeds. Should the occasion arise, Babar is ready to play a maiden over to demonstrate his respect for you."
Azam Siddiqui also told the public to not make any comments about Asif in connection with Babar.