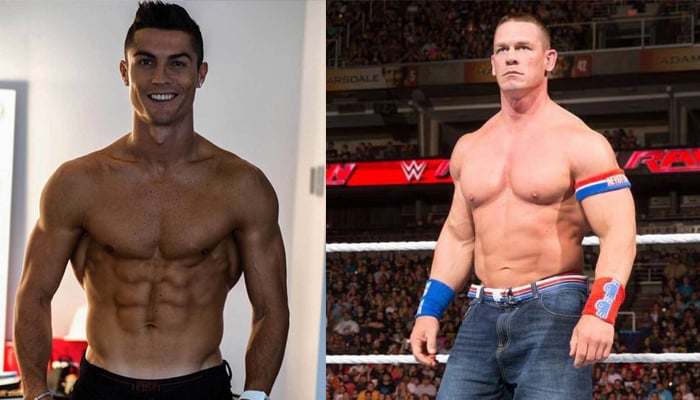 Portuguese football legend Cristiano Ronaldo is reportedly set to make his WWE debut alongside wrestling legend John Cena at the upcoming Crown Jewel show in Saudi Arabia on November 4.
This move could potentially make Ronaldo the latest crossover star for the professional wrestling promotion.
According to DIARIO AS, the WWE is keen on having the five-time Ballon d'Or winner as a guest appearance, and they are ready to offer him a substantial appearance fee to secure his participation. John Cena, who was recently featured in an advertisement to promote the event, is expected to share the stage with Ronaldo.
Ronaldo would not be the first footballer to step into the WWE ring, as he would follow in the footsteps of his former Manchester United teammate Wayne Rooney, who made a cameo appearance on WWE Raw back in 2015. Other footballers like Grant Holt, Adebayo Akinfenwa, and Tim Wiese have also ventured into the world of professional wrestling.
The WWE has a history of welcoming athletes from various disciplines, including boxing. Legends like Tyson Fury, Ricky Hatton, Floyd Mayweather, Muhammad Ali, and Mike Tyson have all made appearances, paving the way for Ronaldo to potentially make his debut in the company.
Despite being 38 years old and recently joining Saudi Arabian side Al-Nassr, Ronaldo has received support from NXT star Apollo Crews, who believes that Ronaldo's world-class athlete mentality could serve him well in professional wrestling.
"Honestly, with that mentality to be a top athlete in the world on that level, I think just on the mentality alone he would've done okay," Crews said.
"When you start the physical part, that's a different story, though, for most people. But again, [he's] a world-class athlete so I wouldn't put it past him," he added/
It's worth noting that former UFC champion Ronda Rousey and YouTuber-turned-boxer Logan Paul turned their WWE cameo appearances into long-term commitments, hinting that the WWE may have similar plans for Ronaldo.
The WWE has recently undergone significant changes, with a merger with the UFC in a massive £17.4 billion deal and the appointment of Ari Emmanuel as the new owner of the wrestling giant. The pursuit of Cristiano Ronaldo for an appearance underscores the WWE's ambitious vision under its new leadership, promising WWE fans an exciting future.