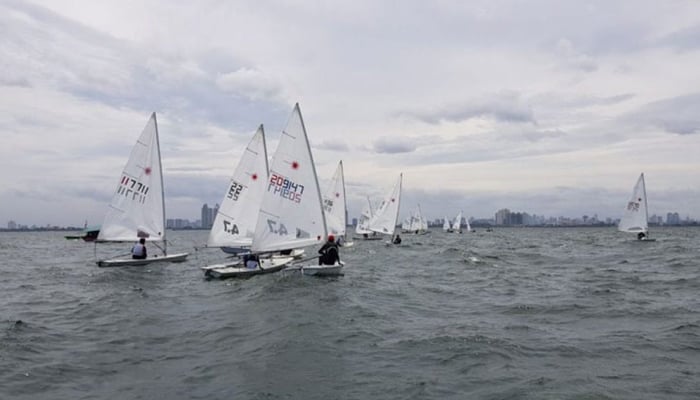 Three Pakistan sailors Raphael Javed, Zoya Ali and Muzammil Hussain missed the first race of their respective classes due to a schedule change on Thursday.
As per details, the Pakistan team was not aware of the altered schedule, leading to their absence from the initial race.
According to Secretary Sailing Federation Akram Tariq, there is no one to blame for the lack of communication regarding this change.
Meanwhile, in the subsequent races, the Pakistani sailors worked to make up for their missed opportunity.
Rafael Javed, competing in the ILCA Class Four, finished 12th in the second race after missing the first one.
Zoya Ali faced penalties in the second race of the ILCA Girls category, which posed additional challenges.
Muzammil Hussain participated in the ILCA 7 class and managed to finish 10th in the second race.
It must be noted that the Asian Games 2023 are currently underway in Hangzhou, China. The sailing event is taking place at the Ningbo Xiangshan Sailing Centre.
Earlier, the quarter-final between Pakistan and Indonesia women's cricket team in the Asian Games was abandoned without a ball bowled on Thursday.
As a result, Pakistan advanced to the semi-finals due to higher seeding.
Pakistan directly qualified for the quarters since they were one of the top four ICC-ranked sides in the continent. The tournament is being played in the T20 format.
The Nida Dar-led team will look to continue their momentum after having secured a historic whitewash against South Africa at home earlier in the month.
The national side has previously won gold medals in the 2010 and 2014 iterations of the Asian Games.
Faizan Lakhani is Deputy Editor (Sports) at Geo News.