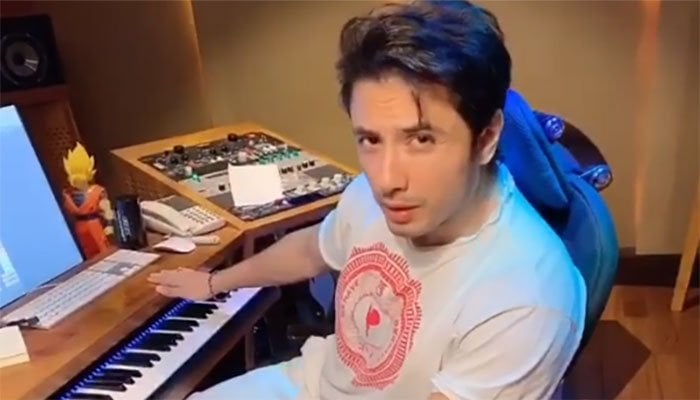 Renowned Pakistani musician and actor, Ali Zafar, has sparked excitement among cricket and music enthusiasts by hinting at the possibility of creating the anthem for the 2023 World Cup. His remarks came in response to widespread disappointment over the official anthem, which left many fans wanting more.
The International Cricket Council (ICC) released the official anthem, titled "Dil Jashn Bole", for the World Cup 2023 on Wednesday.
However, the majority of the cricket fans didn't like the anthem and took to social media to voice their reservations. The anthem features a star-studded appearance by renowned Indian actor Ranveer Singh. The anthem is a collaboration between Singh and coveted Bollywood composer Pritam.
Ali Zafar, known for his iconic contributions to Pakistan's music industry, took to X (formerly known as Twitter) to share his thoughts on the matter. In a post, he expressed his views and the role of cricket's governing body, the Pakistan Cricket Board (PCB), and its sponsors in shaping such endeavours.
"PCB and the big brands that sponsor them are responsible for that. They have marketing professionals who guide them," Ali Zafar commented, pointing out that the creation of a memorable anthem is a collective effort involving various stakeholders.
The artist continued, "If I am required for my country, I have always been there. But I have my own ideas and way of doing things." Ali Zafar's willingness to contribute to the World Cup anthem underscores his patriotism and commitment to serving his nation through his art.
"Corporate culture has its own merits and demerits that I don't want to comment on," he added, acknowledging the complexities of corporate involvement in creative projects. He concluded, "Laikin ager maza na aaya to," leaving fans eagerly awaiting further insights into his potential involvement in crafting an alternative anthem for the prestigious event.
Ali Zafar has been a prominent figure in creating anthems for the Pakistan Super League (PSL), the country's premier T20 cricket tournament
Ali Zafar composed and performed the first-ever PSL anthem, "Ab Khel Ke Dikha," for the inaugural season of the PSL in 2016.
For the second season of PSL in 2017, Ali Zafar once again delivered a catchy anthem titled "Ab Khel Jamay Ga."
"Ali Zafar continued his association with PSL by composing "Dil Se Jaan Laga De" for the 2018 season.
It must be noted the ICC World Cup 2023 will take place in India with 10 teams fighting for the elusive title across 10 venues from October 5 to November 19, with the Narendra Modi Stadium in Ahmedabad hosting the tournament opener and the final.
The Cricket World Cup will be played in a round-robin format with all teams playing against each other for a total of 45 league matches.
The top four teams will qualify for the semifinals, which will be held in Mumbai on November 15 and in Kolkata on November 16. The semi-finals and the final will have reserve days.