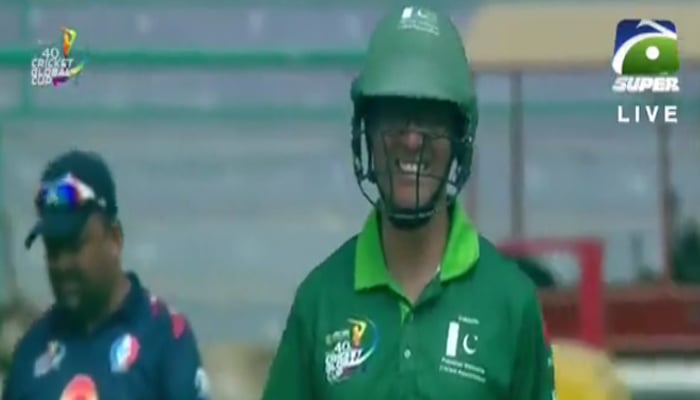 KARACHI: In a dominating performance, Pakistan secured their second consecutive victory in the Over 40s Cricket Global Cup, defeating Nepal by a massive margin of 248 runs.
Batting first, Pakistan posted a formidable total of 382 runs on the board. The team's top-order batsmen, Hassan Raza and Amjad Ali, were the stars of the innings, scoring 154 runs and 108 runs, respectively. Kashif Siddique also made a significant contribution, adding 66 runs to the total.
In response, Nepal faced a daunting target of 383 runs. However, the Pakistani bowlers were relentless in their pursuit of wickets. Muhammad Sami, Abdul Qadir, Haris Ayaz, and Kashif Siddique stood out with their exceptional bowling performances, each claiming two wickets. Nepal's Suman Udaya and Santosh Bhandari tried to resist the Pakistani onslaught, scoring 26 runs each, but their efforts were not enough.
The Nepal team was ultimately bowled out for a total of 134 runs in just 36.3 overs, falling well short of the target. Pakistan's comprehensive victory showcased their dominance in the Over 40 Cricket Global Cup, sending a strong message to their competitors.
Yesterday, Pakistan secured a thrilling victory over the USA by just one wicket. The match witnessed some remarkable performances, with Pakistan's Tassavur Abbas emerging as the hero of the day.
Batting at number eight, Tassavur Abbas played a crucial role in rescuing Pakistan from a difficult situation. Pakistan had been set a target of 251 runs for victory, and as the innings progressed the chase didn't look possible. However, Abbas turned the tide with a brilliant half-century, guiding his team to a nail-biting one-wicket win.
Faizan Lakhani is Deputy Editor (Sports) at Geo News.