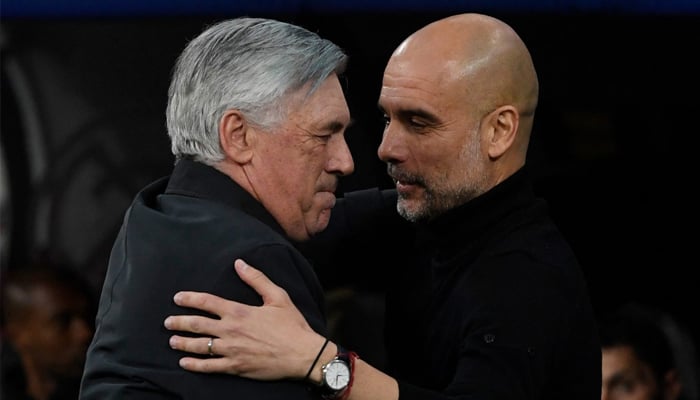 Pep Guardiola and Carlo Ancelotti are two of the greatest managers of all time who have been managing top teams ever since starting their jobs as a coach.
Both tacticians have commanded Europe's elite teams over the course of their managerial careers and cemented their names in the history books of football.
Ancelotti is the only manager to have won a league title in each of Europe's top leagues (Premier League, La Liga, Serie A, Bundesliga, Ligue 1) and to win the UEFA Champions League (UCL) four times.
On the other hand, Guardiola is the youngest manager to win UCL at the age of 38, when he guided FC Barcelona to their first-ever treble in the 2008-09 season.
Last season, Guardiola defeated Inter Milan to win his first-ever UCL with Man City.
Meanwhile, in the 2021-22 season, Ancelotti beat Pep's City to clinch a record 14th UCL title.
The two share a positive relationship as while speaking to TNT Sports, the Spaniard showered praises on the Italian's immense UCL record.
"I cannot beat him because I won one as a footballer but he has won three or four more," Guardiola said.
"You can never beat Ancelotti when it comes to Champions League trophies. I'm younger so I have more time but honestly, it is not a target," he added.
It must be noted that on September 16, Don Carlo recorded his 173rd win in his 241st match for Real Madrid and became the manager with the second most in the club's history, overtaking Zinedine Zidane who had 172 in 275 matches.
Ancelotti is now behind Madrid's legendary manager, Miguel Munoz, who has 357 wins with the Los Blancos — a record that seems to remain unbeaten.
Ancelotti's victories are shared between La Liga (112), Champions League (36), Copa del Rey (17), Club World Cup (4), European Super Cup (2) and Spanish Super Cup (2).
The 63-year-old has also grabbed 10 titles with the Whites, including two UCLs, two Club World Cups, two European Super Cups, two Copa del Rey, one La Liga and one Spanish Super Cup.