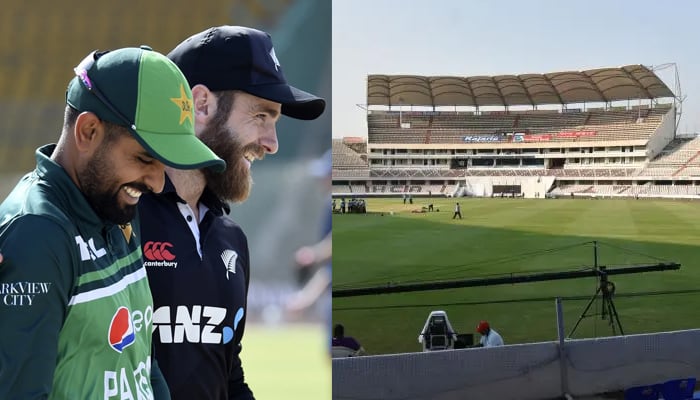 A warm-up match for the upcoming ODI World Cup, featuring Pakistan and New Zealand, will take place without spectators in attendance.
As per Indian media, this decision was made in response to concerns raised by the Hyderabad city police, who cited their inability to provide adequate security for the match scheduled for September 29.
This date coincides with two major festivals in the city, Ganesh Visarjan and Milad-un-Nabi, which are expected to draw large crowds and require substantial police presence.
"The processions will go on late into the night and the local police would not be able to provide adequate security for a match of this scale," a BCCI official said. "There will continue to be full security for both the teams during their stay and transit to the stadium."
The BCCI, in collaboration with the hosting association and ticketing partners, will arrange for ticket refunds for the affected spectators.
Previously, the Hyderabad Cricket Association (HCA) had requested a change in the schedule for back-to-back matches scheduled for October 9 and 10, involving New Zealand-Netherlands and Pakistan-Sri Lanka, respectively, in the city due to security concerns raised by local police. Although a late change in dates was not feasible, security authorities have accommodated this request.
It must be noted that Pakistan is set to play a total of eleven matches in the World Cup, with four of them, including two warm-up matches and two group games, scheduled to take place in Hyderabad.
The Men in Green are expected to arrive in Hyderabad via Dubai on September 27.
Here is Pakistan's schedule for the ICC World Cup 2023:
October 6 - vs Netherlands in Hyderabad
October 10 - vs Sri Lanka in Hyderabad
October 14 - vs India in Ahmedabad
October 20 - vs Australia in Bengaluru
October 23 - vs Afghanistan in Chennai
October 27 - vs South Africa in Chennai
October 31 - vs Bangladesh in Kolkata
November 4 - vs New Zealand Bengaluru (Day match)
November 11 - vs England in Kolkata
The day matches will start at 10:00 am Pakistan Standard Time (PST) while all other matches will be day-night fixtures starting at 01:30 pm (PST).
If Pakistan qualify for the semi-finals, they will play in Kolkata.
If India qualify for the semi-finals, they will play in Mumbai unless playing against Pakistan, in which case they will play in Kolkata.