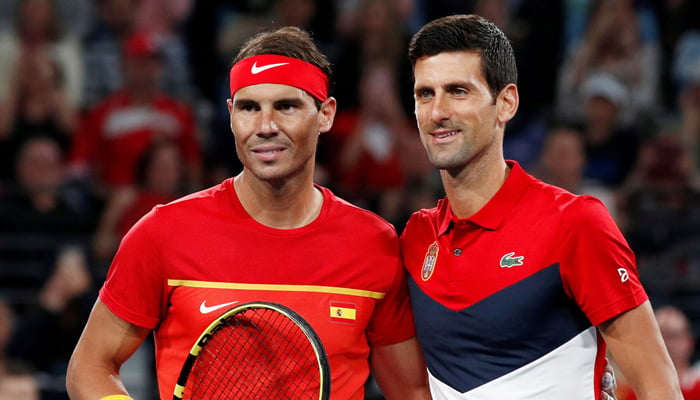 Spanish tennis star Rafael Nadal on Tuesday revealed that has not congratulated Novak Djokovic on winning record 24th Grand Slam.
Djokovic, 36, played all four Majors finals this year and won three — Australian Open, French Open and US Open — and became the first player to win three Slams in a single year four times.
Before this year, Nadal was leading the title race for most Grand Slams with 22 Majors to his name, but the Serb levelled the Spaniard with his triumph in Melbourne and then overtook him with victories in Paris and New York.
Djokovic was praised for his unique achievement by current and former players but Nadal confirmed that he is yet to congratulate the 36-year-old.
"The truth is that I haven't sent any message to Djokovic yet out of pure ignorance. When you win something so important, from experience I know it's better to take the time to appreciate that message. I'll send it but I haven't done it yet," he told Movistar.
The former World No. 1 revealed that he doesn't have many friends in tennis but also confirmed that he still talks to his old rival Roger Federer time to time.
"Of course, I sent messages to [Carlos] Alcaraz when he won or when he was about to win. The others... on the circuit I don't have many friends left, I'm from another generation. I talk to Federer every now and then," he added.
The Spaniard then talked about his unfortunate luck with injuries as he has missed more than 10 Grand Slams due to injuries. At the same, he also claimed that Djokovic's good physique helped him to compete for this long.
"I missed four and a half years of Grand Slams due to injury, this is the reality. But that's also sport. That's not why I'm better than Djokovic, because I played less. He had a physique and a way of playing that allowed him to compete more than me.
"I have no choice but to recognize this, I did what I could. Sometimes I come back and win three Grand Slams, but it's unlikely," he added.