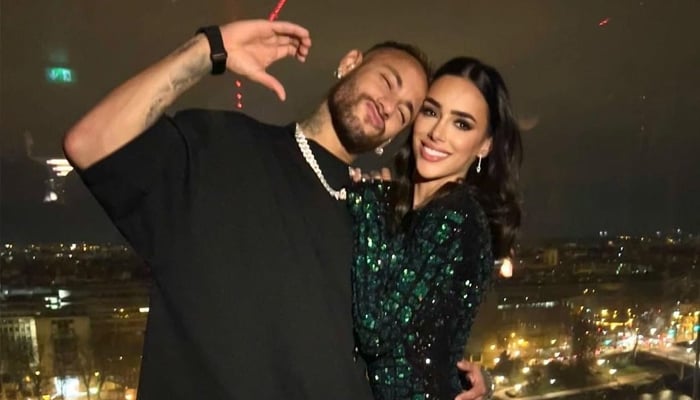 Brazilian football star Neymar Junior is set to welcome his first baby in a few months with girlfriend Bruna Biarcardi after the couple announced their pregnancy in April.
The two share a relationship that has been a subject of constant media attention due to their commitment towards their professional careers and bad patch in the past.
The couple have faced numerous challenges due to their busy schedule as she is a Brazilian model while Neymar — who joined Saudi club Al-Hilal on a big money contract — has to travel from country to country to perform his duty.
The baby's due date is around October to December, who will be Neymar's second child as the footballer is already a father to the 12-year-old Davi Lucca, whose mother is his former girlfriend Carolina Dantas.
Despite the baby being on the way, the problems still seem to exist between the couple. A few days ago, Biancardi posted a story on her Instagram with an odd caption.
Although she deleted that story after a few minutes but fans took screenshots which made headlines.
"If you are not loyal to those who are by your side every day, you are not loyal to anyone," she wrote on her Instagram story.
Many users started to believe that the caption was directed towards Neymar but no further statement was made by the Brazilian model.
Earlier, Neymar apologised to Biancardi over his behaviour while admitting the negative impact his actions had on his relationship and also highlighted the importance of accepting responsibility of one's behaviour.
"I do this for both of you and your family. Justify the unjustifiable. No need to. But I need you in our lives I saw how much you were exposed, how much you suffered with all of this and how much you want to be by my side. And I stand beside you. I did wrong with you all.
"I risk saying I'm wrong every day, on and off the pitch. Only I solve my mistakes in my personal life at home, in my intimacy with my family and friends," Neymar posted on his Instagram account.
The former Barcelona star also said that he felt "obliged" to publicly apologise to his girlfriend saying that if a private matter becomes public, then a public apology is needed.
"Bru, I already apologised for my mistakes, for unnecessary exposure, but I feel obligated to come publicly reaffirm that. If a private matter has become public, the apology has to be public."