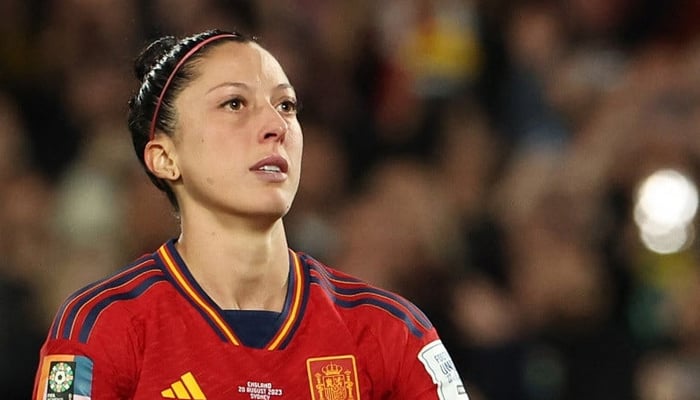 Spain women's football team and FC Barcelona's striker Jennifer Hermoso has been left out of La Roja's squad for the UEFA Nations League by the new manager Montse Tome.
Tome, 41, preferred to distance herself from the Luis Rubiales kiss scandal and Jorge Villa, Spain's former manager, and when asked about why the experienced striker was dropped, Tome justified her choice saying that was to "protect" the 33-year-old.
"We fully support Jenni and the rest of the players. We believe that the way of helping them is being by their side and listening to them. I'm the top authority here and me and my staff think that this is the best way to protect her at this moment," she stated.
However, Tome's comments were not taken lightly by the World champion and she decided to speak up for herself and posted two pictures on X, formerly known as Twitter, saying that she is being protected from what and whom?
"Let's be clear: a claim was made today stating that the environment within the federation would be safe for my colleagues to rejoin yet at the same press conference it was announced that they were not calling me as a means to protect me.
"Protect me from what? And from whom? We have searching for weeks – months, even – for protection from the RFEF that never came. The people who now ask us to trust them are the same ones who today disclosed a list of players who have asked NOT to be called up, she wrote.
It must be noted after the Spain women's football team recorded their maiden Women's World Cup win, Hermoso was kissed on the lips by Spanish FA's president Rubiales during the medal distribution ceremony.
Right after it happened, the 33-year-old footballer expressed her displeasure over the kiss in an Instagram live video and said: "Hey, I didn't like it, eh."
Although Rubiales has resigned but he is still under hot waters as FIFA and Spanish FA have opened investigations against the 46-year-old.