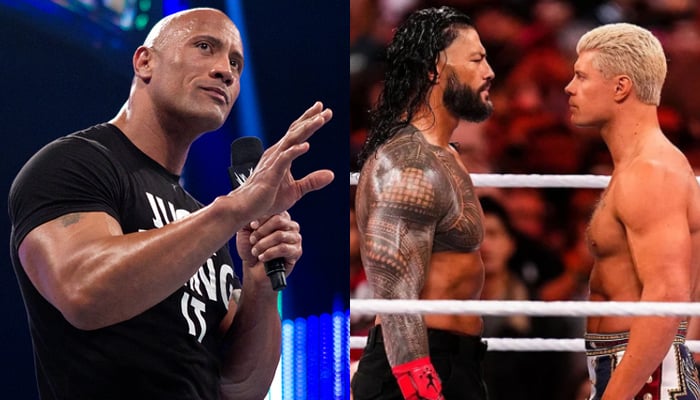 Dwayne "The Rock" Johnson marked his World Wrestling Entertainment (WWE) return on last week's episode of Smackdown and with him, entered a list of rumours that has taken over the WWE world with speculations.
The most anticipated match of the WrestleMania XL will be the one in which Roman Reigns will feature, and Cody Rhodes is the front-runner to face the Tribal Chief but with The Rock's entry, we may see the tide turning away.
Even though The Rock is eager to take on Reigns, as he himself hinted at a possible bout with the Big Dog, WWE want to see Rhodes against the Powerhouse as he will look forward to his title defense.
Rhodes had a face-off with Reigns at WrestleMania 39 earlier this year but the 38-year-old couldn't get the better of the Big Dog and failed to win the WWE Undisputed Universal Championship despite having fans at his side at the SoFi Stadium.
While Rhodes may get another chance next year, but with The Rock's sudden entry, his chances may lessen as the 51-year-old stated that the original plan was for him to take on the Big Dog at this year's WrestleMania but it didn't happen.
"So we got really, really close, but we couldn't actually nail what that thing was. So we decided to put our pencils down. We agreed, 'Hey, listen, there's a merger coming up, eventually that will happen. There's WrestleMania in Philadelphia.' [eyebrow raise] I'm saying that's a potential too. I'm open [to it]. I'm open," The Rock said during an interaction on The Pat McAfee Show.
"But again let's figure out what that is because the fans deserve something just incredible and unprecedented. Not only that but I also want to deliver to the locker room and the boys and the girls back there who are working hard.
"What can we do to put them in a position where they're part of something that is a new change, an era, in this world of pro wrestling. Again, Vince is a big-picture thinker, as you know. This is why we've gotten along for years, just trying to think big picture. So we'll see," The Rock added.