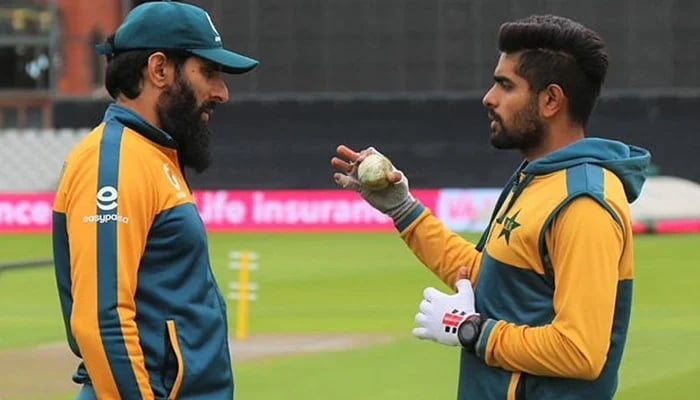 Former Pakistan captain and head coach Misbah-ul-Haq thinks Pakistan don't need to press the panic button in the selection of the squad for the 2023 World Cup after they failed to qualify for the final of Asia Cup 2023.
Misbah-ul-Haq, while talking to the media during the trophy unveiling ceremony of the Over 40s Cricket Global Cup, said changes should be avoided.
"The team's confidence has been damaged, however, the Pakistan team has always bounced back from difficult situations," the 49-year-old said.
"This is not the right time for changes at any level, the flaws are in front of everyone, don't press the panic button on a bad performance," he added.
Meanwhile, Misbah also highlighted that skipper Babar Azam is not responsible for the defeat only while backing the spin department, who have performed in the past.
"The captain alone wasn't responsible for playing 228 runs alone. This is a collective team failure. Our spin department couldn't perform well, but that doesn't mean players lack something; however, they can improvise. Don't press the panic button on one bad performance; this was the same Shadab Khan who performed well in the past," he added.
"Mistakes have been made in the Asia Cup, we have to improve our performance. These players have performed well in the past, and I am hopeful that they will do better in the World Cup," he added.
He also stated the fact that Indian conditions are different from Sri Lanka, and will support Pakistani batters.
"The World Cup is a different event and the conditions will be tough, however, India's conditions will support Pakistani batters," he added.
Pakistan, who entered the Asia Cup 2023 as a top-ranked ODI side, however, failed to live up the expectations as they crashed out of the tournament after finishing fourth in the Super 4s stage.
Pakistan will start their World Cup 2023 campaign against the Netherlands on October 6 at Rajiv Gandhi International Cricket Stadium in Hyderabad.
Meanwhile, Misbah will be in action as the inaugural edition of the Over 40s Cricket Global Cup will kick off tomorrow. Misbah-ul-Haq will lead Pakistan Veterans, featuring star players Shahid Afridi, Mohammad Sami, Abdul Razzaq and others.
"International cricket is a different experience, people are eager to see their stars again, and it is good for Pakistan that the event is happening here. For us, playing 45 overs will be a test," he added.