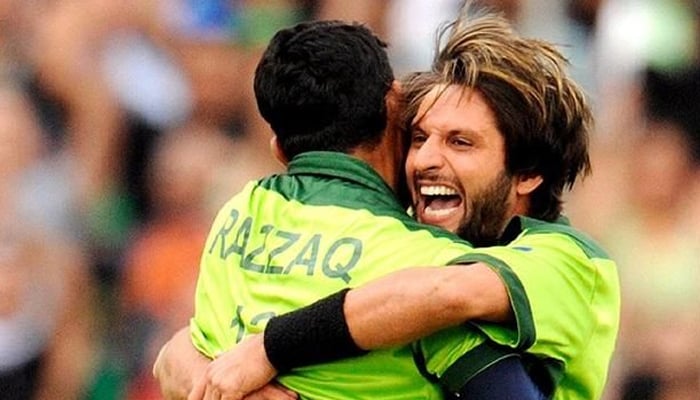 LAHORE: The inaugural MCW Over 40s Cricket Global Cup is set to begin in Karachi on Tuesday (September 19) where eight teams will go head-to-head to compete for the trophy.
Teams from Australia, West Indies, Nepal, Hong Kong, the United States, Canada and the UAE are taking part in the tournament but the Indian team couldn't make it to Pakistan due to certain issues.
Pakistan will play their first match of the competition against the United States at the National Stadium, Karachi on September 19.
The Chairman of the Pakistan Veterans Cricket Association, Fawad Ejaz held a press conference on Monday where he addressed many key issues including the importance of this event.
"This is the first time seven teams have come to Pakistan for Over 40s Cup," said Ejaz.
"Earlier this event was called the World Cup, which was objected to by the International Cricket Council (ICC), so we had to change it. This event is approved and recognised by ICC."
He further clarified as to why the Indian team could not come to play in the Global Cup.
"We wanted India to come but it is difficult for them to get visas.
"There have been ongoing tensions between the two boards [BCCI and PCB] due to their disagreements over the Asia Cup and World Cup.
"We will try to organise a T20 series between Pakistan and India's veteran cricketers soon."
A total of 36 matches will be played at five different grounds in Karachi. Pakistan team will play all its matches at National Bank Stadium and these matches including one semi-final and final will be telecast live on Geo Super.
While Misbah-ul-Haq has been appointed as Pakistan's captain, many star cricketers like Shahid Afridi, and Mohammad Sami will be taking the field to don the Green Shirt for one more time.
Pakistan squad
Misbah ul Haq (c), Abdul Razzaq (vc), Shahid Afridi, Muhammad Sami, Hassan Raza, Tariq Haroon, Khurram Ali Khan (wk), Waqas Ahmed, Abdul Qadir, Muhammad Rizwan Aslam, Kashif Sidqque, Muhammad Ilyas, Afzal Shah (w.k), Amjad Ali, Imran Ali, Tassawar Abbas, Adnan Raees, Junaid Khalil Nainitalwala.
Reserves: Yasir Hameed, Haris Ayaz, Shehzad Malik.
Coach: Jalal-ud-din
Manager: Azam Khan
Atique ur Rehman is a senior reporter for Geo News.