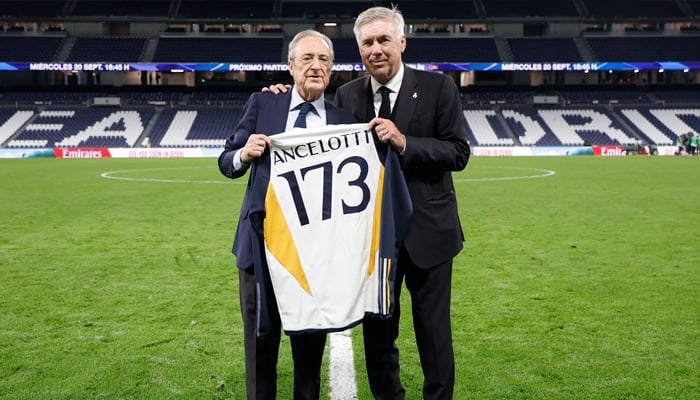 Carlo Ancelotti recorded his 173rd win for Real Madrid on Sunday when his team won against Real Sociedad at the Santiago Bernabeu.
Ancelotti reached this feat in his 241st game in charge for the Whites.
The Italian surpassed former Madrid manager Zinedine Zidane who racked up 172 wins in 275 matches.
Zidane amassed unmatched success in his very short managerial career with Madrid, he is the only manager in the history of football to have won the UEFA Champions League (UCL) for three consecutive years.
When asked how he feels after breaking Zidane's record and becoming one of the most successful managers in Real Madrid's history, the Italian's reply was just as Italian as it gets.
"An honour to surpass Zinedine Zidane in number of victories, I'm very happy. I'm going to celebrate with my wife with a good glass of wine," he said while laughing.
Ancelotti is now behind Madrid's legendary manager, Miguel Munoz, who has 357 wins with the Los Blancos — a record that seems to remain unbeaten.
Ancelotti's victories are shared between La Liga (112), Champions League (36), Copa del Rey (17), Club World Cup (4), European Super Cup (2) and Spanish Super Cup (2).
The 63-year-old has also grabbed 10 titles with the Whites, including two UCLs, two Club World Cups, two European Super Cups, two Copa del Rey, one La Liga and one Spanish Super Cup.
Ancelotti joined Madrid in 2021 entering his second stint at the Spanish club after he was sacked in 2015 following a trophyless season.
The Italian did an impressive job in his first season by guiding the Los Blancos to La Liga and UCL title triumph.
During his first stint with Madrid in the 2013-14 season, Carlo helped Madrid end their 12-year UCL drought as they won a historic final against Atletico Madrid in Lisbon, courtesy of Sergio Ramos' famous last-minute header goal in 92nd minute of the game.
It must be noted that the Italian is considered one of the greatest managers of all time. He is the only manager in the history of football to have won the UCL five times.
He is also the only one who has won a league title in each of Europe's top leagues (Premier League, La Liga, Serie A, Bundesliga, Ligue 1).