As George Russell crashed during the final lap, Ferrari's Carlos Sainz managed to hold off Lando Norris and Mercedes at the Singapore Grand Prix to claim his second Formula 1 (F1) win.
Sainz led McLaren's Norris and Mercedes' Lewis Hamilton — a seven-time world champion —from pole position as he finished first ahead of those two.
Russell was third and was consistently putting pressure on Sainz with his fearsome charge but as he was leading the assault along with his Mercedes compatriot Hamilton, he crushed out from third place.
He delivered a tactical masterclass in order to clinch his second F1 win by staying in front of Norris as a bodyguard.
The Spaniard held his nerves throughout the race and despite pressure from Hamilton, Sainz did not crumble and held his ground.
The Spaniard's win also ended Red Bulls' Max Verstappen's record run of 10 consecutive wins at Marina Bay as the Dutchman finished fifth.
Here is the top driver's rankings in F1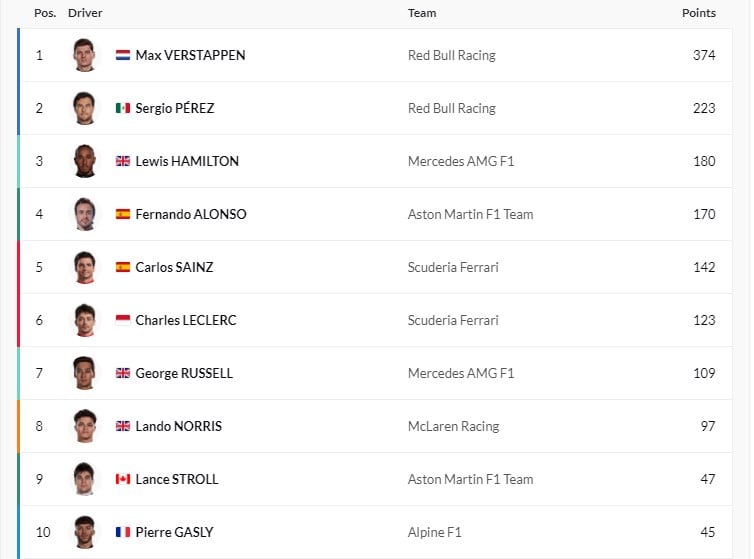 Here is the top constructor's rankings in F1
"We nailed the weekend, we nailed the race and we did everything we had to do, and we did it perfect," said Sainz. "We brought home P1 and I'm sure the whole of Italy and the whole of Ferrari are going to be proud and happy today.
"I felt under control, I always felt like I had the head-space and the pace in hand to do whatever I wanted to do. I'm over the moon right now."
It must be noted that Ferrari entered into this race with only one objective which was to win it. They pulled every strategic game and even ended up sacrificing Sainz's teammate Charles Leclerc on the way.