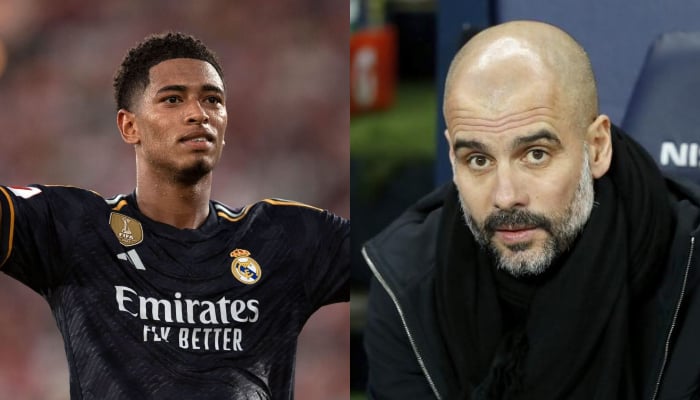 Jude Bellingham has been justifying the €103m tag ever since making his debut with Real Madrid and it has become nearly impossible to not mention him when talking about the best young players in the world.
He is currently the top-scorer of La Liga with five goals in four matches and to say he is the sole reason why the Los Blancos are at the top of the points table wouldn't be wrong as all of his goals were winners.
Manchester City's head coach Pep Guardiola couldn't refrain from lauding the 20-year-old as he also performed well in England's friendly against Scotland last week.
Guardiola found it difficult to believe Bellingham is just 20 years old because of not only the way he is performing for the Whites but also the way he adapted to the club's culture in less than three months.
"Jude Bellingham? Maybe he's a liar… he's too good for his age," he said about the midfielder.
Bellingham was on the radar of many top clubs during the transfer window with Man City, Real Madrid and Liverpool going head-to-head to get the 20-year-old's signature and it was believed that the midfielder would end up playing for Guardiola as the Reds backed away due to financial issues.
Man City had an excellent relationship with Bellingham's previous club Borussia Dortmund following successful acquisitions of Erling Haaland and Manuel Akenji.
The treble winners did not only have a positive relationship with the German club but they were also leading the race financially.
However, Real Madrid's constant interest in the 20-year-old forced him to go with the Los Blancos, not only because it was his dream to join the club, but also because his biggest idol, Zinedine Zidane, played for and coached that club, which was one of the biggest factors as Bellingham chose to wear number 5, which the Frenchman wore during his Madrid days.
Bellingham was named the Bundesliga Player of the Season 2022-23 for his astounding campaign with the Black and Yellows where he scored 14 goals and provided seven assists.