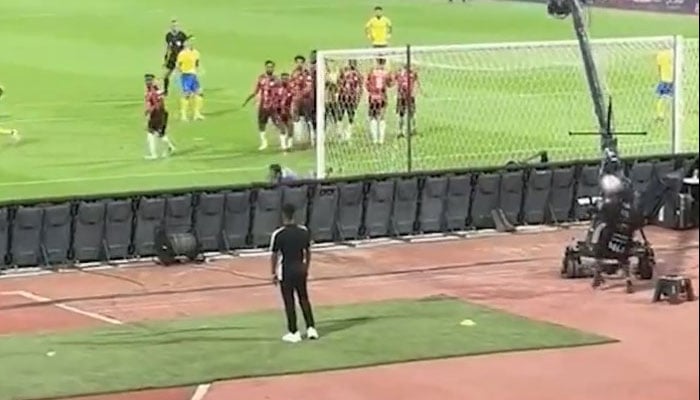 Cristiano Ronaldo nearly knocked out a cameraman with his freekick during Al-Nassr's 3-1 victory over Al-Raed at the King Abdullah Sports City Stadium in Saudia Arabia on Saturday.

Goals from Sadio Mane, Talisca and Ronaldo helped their side win their fourth match of the 2023-24 season.
A video from the crowd showing Ronaldo's freekick cruising past the goalpost and hitting the cameraman on the head went viral on social media.
WATCH:
Despite a thunderbolt from Ronaldo hitting him on the head, the cameraman did his best to stay on his feet and remain professional by not falling.

It must be noted that Al-Nassr is currently at sixth position in the Saudi league with four wins in six games.
At 38 years of age, the Real Madrid and Manchester United legend is still going strong as with seven goals and four assists, the Dark Invader, a nickname given to him by former footballer Ray Hudson, currently leads the goals and assists charts in the league.
Earlier, Ronaldo named the toughest defender he ever faced in his career.
In his 20-year-long career, Ronaldo has faced the finest defenders of this century. Names like Dani Alves, John Terry, Gerard Pique, and Diego Godin will always make the list whenever we discuss the best defenders of the last 20 years.
Before sustaining a knee injury in 2014, Ronaldo used to terrorise defenders with his dribbling, quick runs, and skills and was a nightmare for La Liga and Premier League full-backs.
But it was Chelsea's Ashley Cole whom the Portuguese thought was the toughest defender he ever faced.
"Over the years I had some great battles with Ashley Cole. He does not give you a second to breathe," Ronaldo said while speaking to Coach Mag.
"He was such a tenacious player when he was at his peak, quick, tough in the tackle. You knew it would never be an easy game."
Cole, who was considered the best left-back of that time, had numerous battles with Ronaldo. Before he joined Chelsea in 2006, the English footballer was playing for Arsenal.