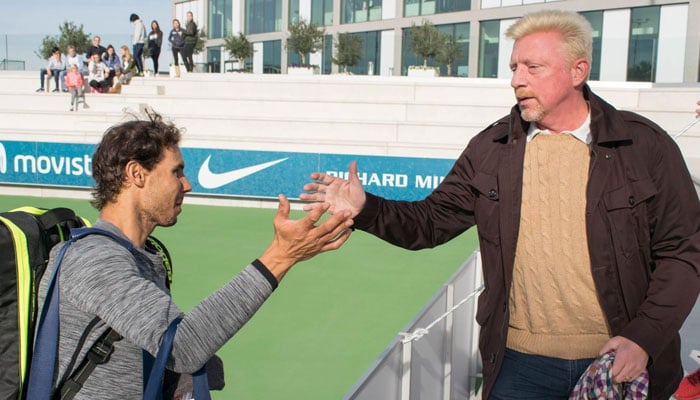 Spanish tennis icon Rafael Nadal has not played a game since sustaining a hip injury at the 2023 Australian Open in January and the date of his return is yet to be determined as the 22-time Grand Slam winner continues his recovery after undergoing surgery in June.
Nadal is moving towards retirement and will look forward to playing a farewell tournament before calling time on his magnificent career but the German tennis legend Boris Becker believes that the Spaniard will not mark his return to the court until he is confident he can win a Slam.
Becker stated that the 36-year-old has his focus on a double visit to Roland Garros for the Olympics 2024 and French Open.
"Nadal is a role model for everyone. Millions of fans around the world want to see him back on the tennis court and not in the press conference, where he declares that he may not be able to play again," Becker said according to Eurosport.
"I also believe that he would never come back if he doesn't see a chance for himself. So, he's not coming back to play the first or second round, but to win tournaments.
"His ultimate goal will always be Paris, will possibly be the [2024] Olympics in Paris, which will be played on clay at Roland Garros. But for that he needs the legendary match practice, and he can only get that at tournaments.
"So it's hard to get started. He'll get a bit of a kicking at first, but then we'll go into February – if he stays healthy – and March and April, when it's played on clay. Then he'll have had his ten, 15 matches – and I would never bet against Rafael Nadal on clay."
It must be noted that in 2024, Roland Garros is in pole position to host the French Open from May 20 to June 9 while the Olympics are scheduled in late July.
The Olympics tennis event will be held on clay for the first time since 1992 when it was played in Barcelona.