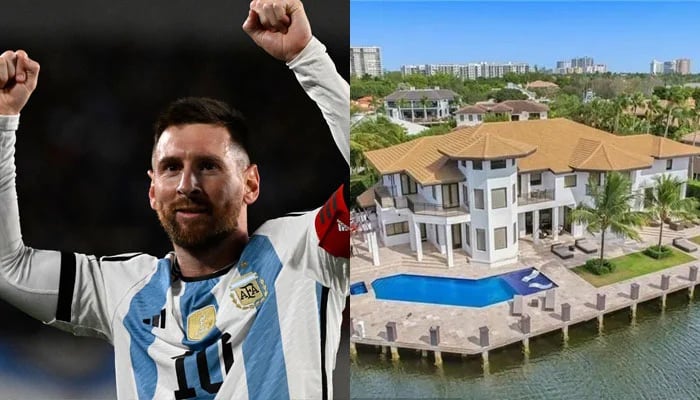 Legendary footballer Lionel Messi, along with his wife, Antonella Roccuzzo, has made a significant real estate investment by purchasing a waterfront mansion in Fort Lauderdale, Florida.
The mansion was acquired through a company led by Messi's wealth manager, Alfonso Nebot, as confirmed by records and sources.
Messi, who joined Inter Miami in July amid considerable excitement, has achieved remarkable success with the team, securing eight wins and four draws.
The Argentine native, who previously played for Barcelona, led his national team to victory in the World Cup championship last year and is currently participating in the 2026 World Cup qualifiers.
The property at 91 Compass Lane was sold to Messi and Roccuzzo by John and Stacy Dickerson for $10.8 million. The Dickersons had acquired the estate in May of the previous year for $9 million, signifying a 20 per cent increase in value over 16 months.
Situated on a 0.4-acre lot, the mansion boasts 10,500 square feet of living space, eight bedrooms, and 170 feet of waterfront with two docks. It features a waterfront pool, a gym/spa room, and an Italian kitchen, as listed in 2022.
The house, initially constructed in 1988, underwent expansion in 2000, as indicated by property records. The primary suite owned by Messi and Roccuzzo covers a sprawling 1,600 square feet.
Messi's new residence is conveniently located approximately 5 miles from Drive Pink Stadium and Inter Miami's adjacent training facility in Fort Lauderdale. While the team currently operates there, it anticipates a future move to Miami.
The ownership group, consisting of Miami businessmen Jorge and José Mas, former soccer star David Beckham, and other partners, is planning Miami Freedom Park, a large mixed-use development featuring a soccer stadium on the city-owned Melreese Country Club property near Miami International Airport.
Messi's deal with Inter Miami is estimated to be valued between $50 million and $60 million, encompassing equity in the team and revenue-sharing agreements with companies such as Adidas and Apple.
Notably, Messi's fellow longtime teammate, Sergio Busquets, who also joined Inter Miami, recently purchased a waterfront home in Sea Ranch Lakes for approximately $8.7 million, not far from Messi's new mansion.
In addition to this, Messi owns three luxury condos in Sunny Isles Beach, including one at the Porsche Design Tower, which was completed in late 2016 by Gil Dezer's Dezer Development.