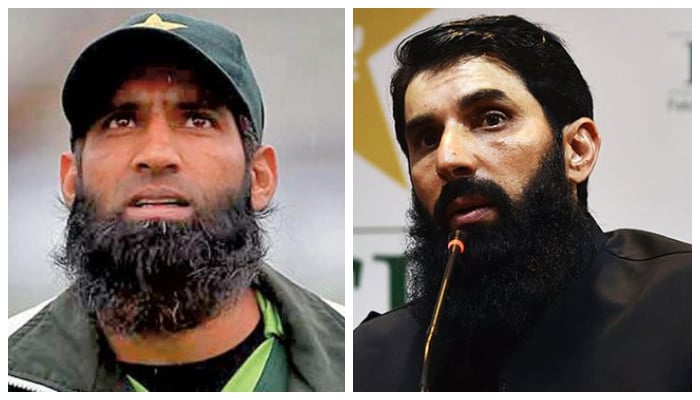 Batting legend Mohammad Yousuf launched a scathing attack on newly appointed Pakistan head coach Misbahul Haq, calling him a "yes-man" and questioning how a cricketer whose own technique was lacking could make the team play aggressive cricket.
Yousuf, according to Daily Express, lambasted Misbah's appointment during a TV programme, describing it as a "violation of merit" before tearing into the Mianwali born.
"The Pakistan team lacks the technique, control and aggression," said Yousuf, who is one of Pakistan's batting greats. "Take a look at Misbah's career. At what point can you find technique and aggression in his career?" 
Read: Misbah working day and night to justify dual role: report
"Did it ever happen that when the team was in danger, he would promote himself up the order at number three. Or when he'd come late, did he ever start scoring runs immediately?" 
Yousuf, whose stranglehold on Pakistan's middle order kept a young Misbah out of the side in early 2000s, alleged that Misbah deliberately came in late to hide his batting flaws.
"When Kane Williamson comes at number three, he scores a century. Meanwhile, Misbah would wait for three wickets to fall so he could claim that the situation warranted him to play defensively," he said. 

"Someone who was not able to demonstrate positive thinking himself on the field of play despite being the captain, how could he improve the performance of the players?" Yousuf questioned.
'PCB only hires yes-men'
Yousuf clarified that his diatribe against Misbah had nothing to do with the fact that he was looked over by the PCB for the head coach's position for the U-19 team.
"This is not about jobs. We just say what's right for the betterment of Pakistan cricket. But of course the PCB would not accept that," he said. 
Read: 'Disappointed with PCB's attitude', says Mohammad Yousuf 

The Pakistan Cricket Board, Yousuf claimed, only has a place for people who do what it says.
"They only need people who can say 'yes, sir!' This is exactly what people like Intikhab Alam have been doing for 40 years," he said.
How can 'technically flawed' Misbah improve Pakistan team: Yousuf lashes out